THESE SWEET POTATO FRIES ARE CRISPY AND DELICIOUS WITH THE PERFECT INDIAN MASALA KICK!
I love sweet potato in all forms but my favorite has to be sweet potato fries!
They go great as a side for so many different meals and are delicious as a snack.  I love these served up with a variety of dips like chutney, tahini, raita, and my chili sauces
These sweet potato fries are taken up a notch  – seasoned with chaat masala, an Indian seasoning that combines spices like pepper, cumin, chili, and dried mango powder.  The blend creates a hot and sour flavor that will keep you reaching for more!
I love these fries paired with
ENJOY!
Yield/Servings:
Author: Riyana Rupani
Print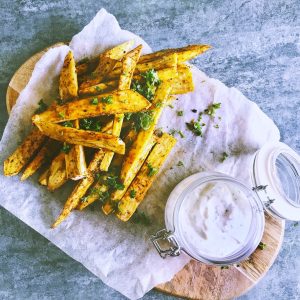 Masala Sweet Potato Fries
sweet potato fries Indian style
PREPARATION TIME: 40 MIN
COOKING TIME: 35 MIN
TOTAL TIME: 1 H & 15 M
INGREDIENTS
3 sweet potatoes
3 tablespoons coconut oil or avocado oil
sea salt to taste
1 tsp chat masala
1 tsp paprika
1/4 tsp cayenne (optional)
5 tsp arrowroot or tapioca flour
1 tsp dried mint
2 tsp lemon juice
INSTRUCTIONS
Wash and clean the sweet potato.
Cut the potatoes into 1/2" thick chips. Cut the potatoes as evenly as you can (making sure they're similar thickness)
Submerge them in water for 15-30 mins (this is for extra crunchy fries, you can skip this step if pressed for time)
Pre-heat the oven to 215C/420f degrees.
Dry the potatoes well with a paper towel and add them into a large bowl along with oil, and seasoning.
Give it a good mix (hands work best)
Add to a parchment-lined baking sheet and bake for 35 to40 mins, turning them over halfway through.
Serve hot. with raita, chutney, or sauce of choice.