THESE ENERGY BITES ARE SOMETHING YOUR WHOLE FAMILY WILL LOVE
These are perfect for a snack, dessert, or on the go!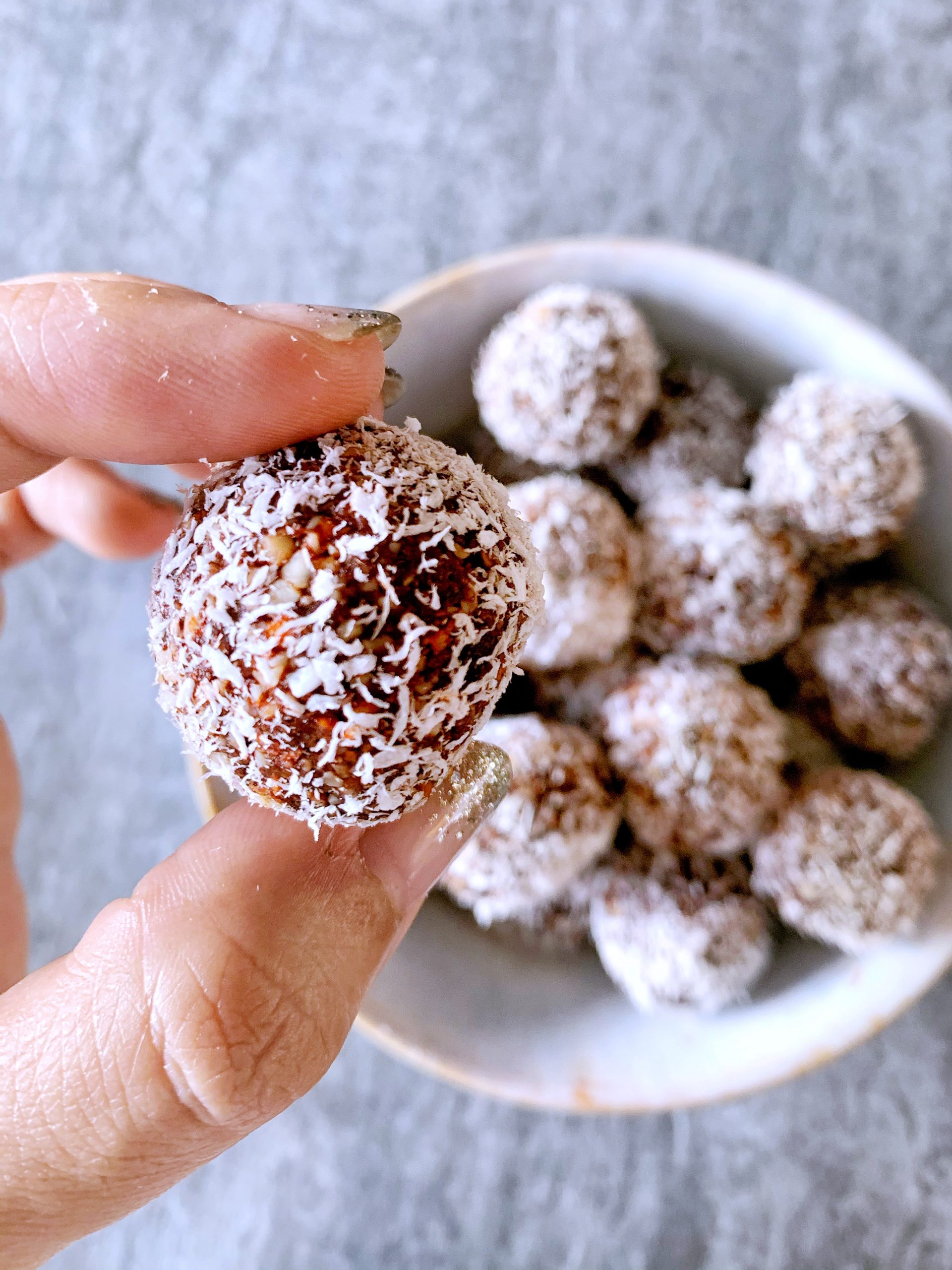 I've been making a batch of these quite often lately.  They are great for a school or after-school snack for the kids.  They hold up really well on the go, and they are downright delicious.  The recipe below makes about 24 balls so I like to freeze half because #portioncontrol! 
These are quite versatile so feel free to use whatever nuts and seeds you like or have on hand.  You can also swap out the coconut shreds for hemp hearts for a nice little change!  
Don't forget those topping!!  
Totally options but they make them a little more pretty and special.
My topping go-tos are hemp hearts, cacao powder, or some ground nuts! 
These are quick and easy to put together.  You won't need more than 10 minutes, and no baking!
Yield/Servings: 24 Smallish Balls
Author: Riyana Rupani
Print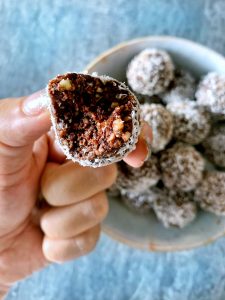 Cocoa Fudge Balls
Grain-free delicious snack or dessert
PREPARATION TIME: 15 MIN
TOTAL TIME: 15 MIN
INGREDIENTS
1 cup cashews
1 cup almonds
1/2 cup pumpkin seeds
3/4 cup raw cacao powder
1/4 tsp salt
1/2 cup dried shredded coconut
225g / 8oz. soft pitted dates (soak in hot water if needed)
1.5 Tbsp vanilla extract
Water as needed to help bind
Optional Toppings
Shredded coconut
Hemp hearts
Cacao powder
Sesame seeds
Ground up nuts or seeds of choice
INSTRUCTIONS
In a food processor, start by adding your cashews, almonds, pumpkin seeds, and cacao. Blend for a minute until you have a more powder like consistency. I like to leave my mixture on the course side for texture.
Add in your coconut and pulse your food processor to help incorporate
Add in your dates and vanilla, and turn the food processor on to combine.
Now from the top nozzle, add in your water 1 Tbsp at a time until you get the consistency you need. The mixture should be firm but moist enough to stick together. You don't want it too wet or dry.
Roll in the topping of choice and refrigerate for about 30 minutes to set.
Store in an airtight container.
NOTES:
If you want to up the protein, adding a few scoops of collagen is a great option!
These freeze well so you can keep half out and save half for later.
Feel free to change the nuts and seeds around to what you like or have on hand. These would be great with walnuts, pecans, sunflower seeds, etc.