YOU CAN ENJOY THESE PANCAKES WITHOUT THE GUILT!
My family looks forward to Sundays because at our house it's pancakes for breakfast!
I've got another blender pancake recipe, but this one seems to make an appearance a lot lately.  The ingredients are blended up so the prep takes minutes, and cooking these up is fast as well.  
These pancakes are naturally sweet because of the banana, but if you wanted to add a bit more sweetness you could add 1 to 2 Tbsp of date paste or maple syrup to the mix.
To increase the nutritional value of these babies, there are tons of add-in options.  collagen, flax meal, and spinach (Green pancakes!💚) are some of our favorites.  
If you find it hard to digest oats, I highly recommend soaking them overnight with a little acid (lemon juice or apple cider vinegar) to help break down the phytic acid.  Also, ensure the package clearly says gluten-free if you are avoiding gluten.  While oats don't contain gluten, they may be packaged in a place where gluten-containing items are as well, so you have a risk of cross-contamination.  
I hope you give these a try this weekend!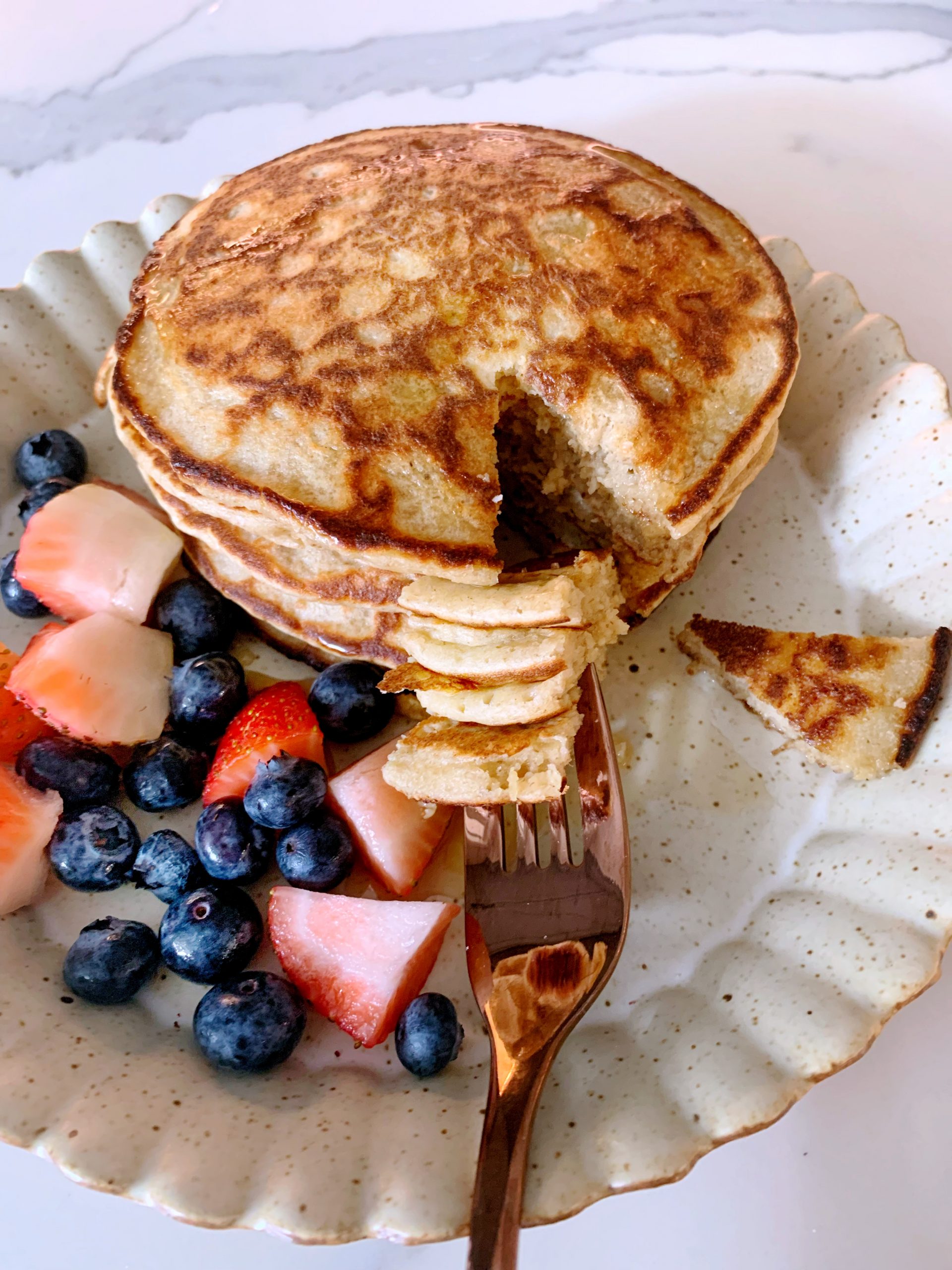 Yield/Servings: 8-10 Pancakes
Author: Riyana Rupani
Print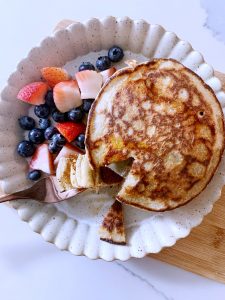 Gluten-Free Banana Blender Pancakes
These pancakes come together quickly for the perfect weekend breakfast
PREPARATION TIME: 5 MIN
COOKING TIME: 15 MIN
TOTAL TIME: 20 MIN
INGREDIENTS
Pancake Batter
2 cups gluten-free old fashion rolled oats
1 cup water
1 tbsp coconut oil
2 eggs
1 tsp vanilla extract
1 ripe banana
2 tsp baking powder
dash cinnamon
pinch of salt
Topping Options
maple syrup
coconut yogurt
Nut butter
berries, banana, or any other fruit
INSTRUCTIONS
Add all your ingredients into your blender and blend until you get a smooth batter.
Heat up your frying pan and grease with butter, ghee, or coconut oil.
Pour your batter onto your frying pan once it is hot. Let the base of the pancake set, should take about 1-2 minutes before flipping and cooking the other side.
Serve hot with toppings of choice.