THIS BELGIAN STYLE CHOCOLATE CAKE WILL BLOW YOUR MIND!
This chocolate cake is dark, decedent, and all you look for from a flourless style chocolate cake.
I recently celebrated my birthday and even though a good birthday meal is more my style, everyone looks forward to the cake that comes at the end of the meal… especially my kids!!
Whether you are entertaining or making this for your own enjoyment, I promise this cake won't disappoint all you chocolate lovers out there.
To be honest, I tend to find store bought or restaurant desserts way to sweet so I personally love making my cakes at home. This way I have full control of the ingredients and the amount of sugar I use.  
INGREDIENTS
In regards to the chocolate I used.  I think this came out perfect using Lindt 78%, but you can go darker or lighter based on your preference.  
If you want to make this dairy-free, sub the butter for ghee.
Looking to reduce the sugar content and go for a more Low-carb cake?  I have subbed the sugar withLakanto granulated sugar and it's turned out delicious!
TIP
Make sure you let the batter sit for 30 minutes before baking.
When you are nearing the end of the bake time, watch your cake carefully.  As soon as you see those lovely cracks start to form, your cake is done.  Don't leave it in for too long otherwise your cake will end up dry and crumbly.
Don't be worried if you see some delectable butter oozing out of the cake.  This will settle and is not an indication that your cake isn't done.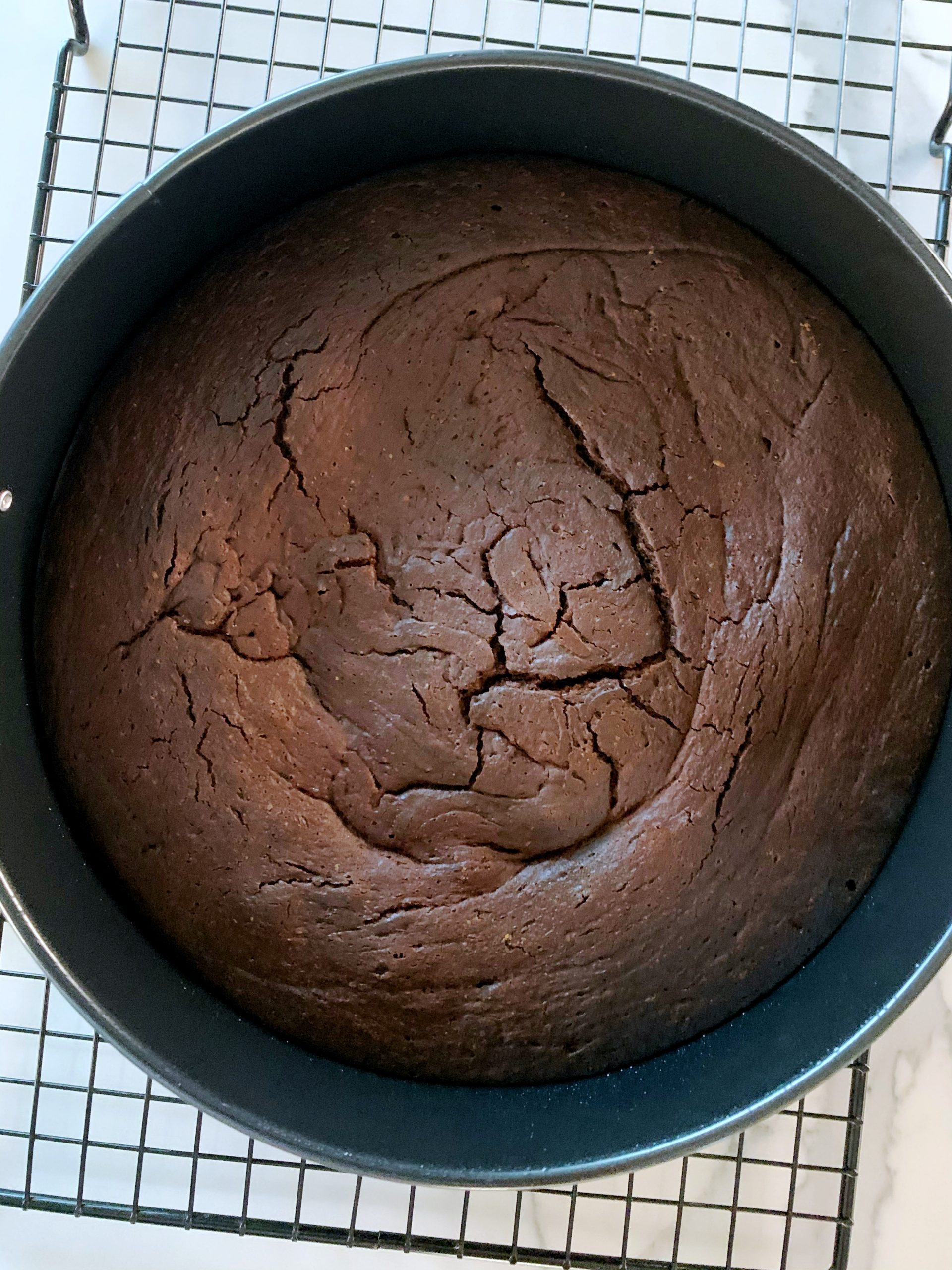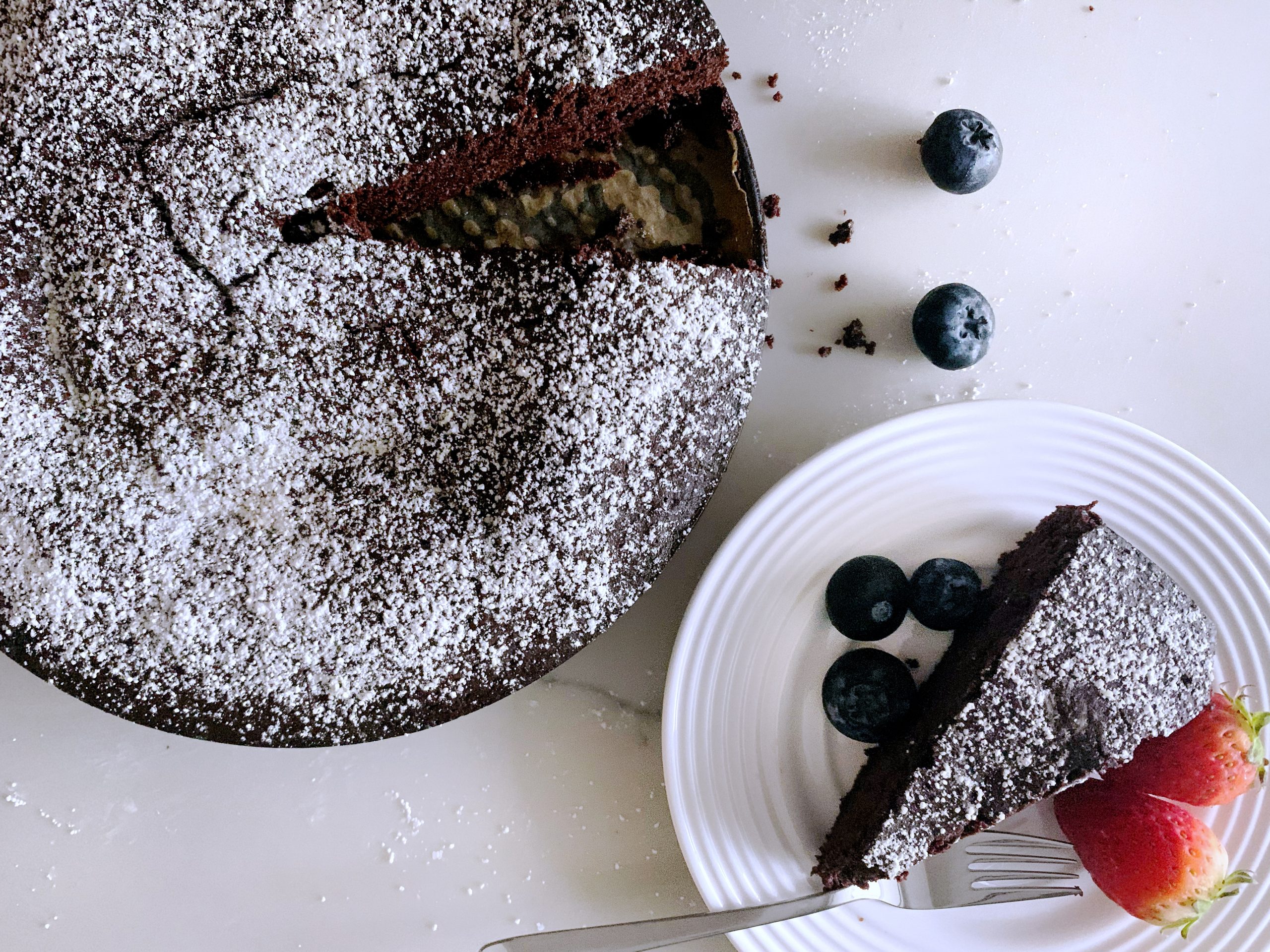 Yield/Servings: 12
Author: Riyana Rupani
Print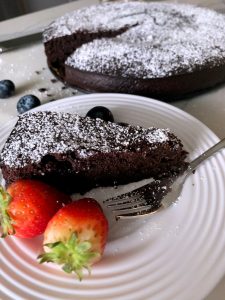 "Belgian Chocolate" Cake
A decadent chocolate cake, Low on sugar, not on taste
PREPARATION TIME: 10 MIN
COOKING TIME: 60 MIN
INACTIVE TIME: 30 MIN
TOTAL TIME: 1 H & 40 M
INGREDIENTS
9 ounces / 255 grams dark chocolate (I use Lindt 78%)
1 cup (2 sticks) unsalted butter or ghee
1/2 cup raw cane sugar or use Lakanto granulated sweetener for lower sugar. (I like to do half and half)
5 tablespoons almond flour or tigernut flour for nut-free
1/2 tsp vanilla extract
5 large eggs at room temperature
Organic powdered sugar for sifting on top (optional)
INSTRUCTIONS
Pre-heat the oven to 325F/ 160C Lightly butter a 10 inch spring-form or tart pan with removable bottom.
In a double boiler melt together the butter or ghee and chocolate on a low flame. stir until the chocolate completely melts. If you don't have a double boiler, you can easily create one using a pot filled up about 2 inches with water and placing a metal or glass bowl on top. The steam from the hot water will gently melt the chocolate and butter/ghee.
Once warmed through and nice and combined, remove the chocolate from the heat and add the sugar, extract, and flour to the chocolate. Then add the eggs, and whisk well. Ensure your batter isn't too hot because you don't want the eggs to cook. Cover your batter and set aside at room temperature for 30 minutes to allow the mixture tothicken.
Pour into the greased pan and smooth out the batter evenly. Bake for about 50-60 minutes (mine was done in exactly 50), until cracks form across the surface. Cool on a rack, then remove the outer ring.
Decorate with sifted powdered sugar and berries.
NOTES:
Watch your cake carefully towards the end of baking. As soon as you see cracks form on the top, it's time to take the cake out of the oven. Leaving the cake in the oven too long will make the cake dry and crumbly.

If you see some butter/ghee oozing from the cake when you remove it from the oven, this OK. It will settle once cool.