A FRUITY TWIST TO YOUR NEXT MEXICAN MEAL
Bored of your traditional Salsa?
Try this fruity spin for a change.
I love this twist to a classic pico do gallo.  Simply adding some fresh fruit can brighten a heavy meal beautifully.
What do I use this salsa on? 
Topped on grilled fish – simply season with taco seasoning and grill or pan-fry for an easy meal.
With shrimp tacos
Served with corn tortilla chips and a crisp margarita
with enchiladas 
No matter how you dish this up, it's delicious and has that wonderful combination of sweet, savoury, and spicy!
Don't have mangos?  
I love using pineapples too!
Why I add avocado.
I always say to combine your fruit with a protein or fat to slowdown the blood sugar hit the fruit can give you, and the avocado works perfectly here to offset the very sweet mango or pineapple!
Yield/Servings: ~ 1 Cup
Author: Riyana Rupani
Print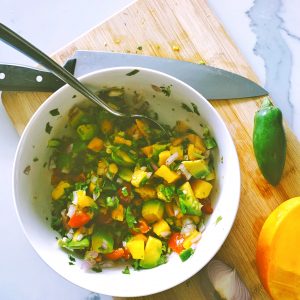 Mango Salsa
A delicious sweet twist to your traditional salsa
PREPARATION TIME: 10 MIN
TOTAL TIME: 10 MIN
INGREDIENTS
1 ripe mango, peeled, pitted, and diced
1 avocado diced
1 small tomato, seeds removed, and diced
1/2 a onion, Finley diced or you can use spring onion
1/2 jalapeño chile, minced (less or more to taste)
3 Tbsp fresh cilantro leaves, chopped
1.5 -2 tablespoons fresh lime juice (taste and adjust)
salt to taste
INSTRUCTIONS