HOMEMADE IS ALWAYS BETTER
Never buy store-bought again.
I used to buy store-bought packaged taco seasoning until I realised there were a bunch of ingredients in there I didn't want or need. 
Manufacturers add in ingredients Lik grains to prevent clumping, flavor enhancers and sugar to get you addicted.  Thanks but no thanks.
Once I realised how easy it was to make my own, I was converted.  
I'm a control freak, and love that I can control the spice level and intensity of flavors to my liking.
This is my base flavor but feel free to play around with it and make it yours.
If you make Mexican cuisine a lot (like me!) double or triple the ingredients and store in an airtight container.
Yield/Servings: 6
Author: Riyana Rupani
Print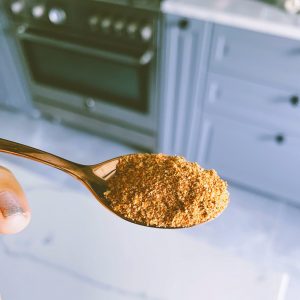 Taco Seasoning
Never buy store-bought again
PREPARATION TIME: 5 MIN
TOTAL TIME: 5 MIN
INGREDIENTS
1 tablespoon chili powder (or chipotle powder)
1/2 teaspoon garlic powder
1/2 teaspoon onion powder
1/2 teaspoon crushed red pepper flakes (or to taste)
1/2 teaspoon dried oregano
1 teaspoon paprika
2 teaspoons ground cumin
1 1/2 teaspoon sea salt
1 teaspoon black pepper
INSTRUCTIONS
In a small bowl, mix together chili powder, garlic powder, onion powder, red pepper flakes, oregano, paprika, cumin, salt and pepper. Store in an airtight container.
Make a bigger batch if you plan to use often!