BECAUSE WHO DOESN'T LOVE A GOOD MARGARITA!
There is just something about a good classic margarita.
I don't know about you but there is something about a good margarita that makes me feel like I'm on vacation.  I could literally be in my living room sipping on one but immediately get  those carefree vibes!
I find most margaritas too sugary, with way too much agave syrup added in.  Here is how I make my killer margarita at home!
If you do enjoy a slight bit sweeter margarita, you can add a few drops of monk fruit sweetener, but personally the cointreau and orange juice is good for me.
I warn you, these babies might be lower in sugar, but they pack a punch so please drink responsibly!
Want to give your margarita a little twist?
add a few slices of fresh jalapeños for a spicy margarita.
Add some fresh tropical fruit like mango or pineapple or swap the orange juice to pineapple juice for a more tropical flavor.
Add fresh spices to the mix like ginger, lemongrass, or lime leaves for a fresh take.
Throw some strawberries in while blending for a beautiful pink and fruity version.
Looking for something to pair your Margarita with?
Try one of these delicious recipes.
Yield/Servings: 6
Author: Riyana Rupani
Print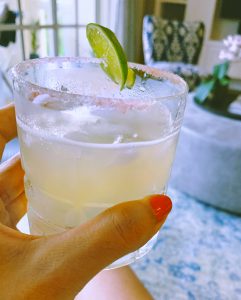 Ri's skinny margarita
My version of a skinny margarita
PREPARATION TIME: 5 MIN
TOTAL TIME: 5 MIN
INGREDIENTS
Margarita mix
1 cup good quality white Tequila
1/4 cup Cointreau
1/3 cup fresh orange juice
1/2 cup fresh lime juice
10 drops monk fruit sweetener (optional)
2 tsp egg white (optional)
For the glass
Optional Add-ins
Fresh Jalapeño slices
Ginger
Fruit - my favorites are mango, pineapple, strawberry
INSTRUCTIONS
Throw all your Margarita ingredients into a blender and give it a good whizz. The egg white is optional but give the margarita a nice froth if you like that.
Run a lime wedge along the rim of a glass then dip it in salt, to salt the rim.
Fill the glass with ice.
Pour over your margarita and garnish with an additional lime wedge
Enjoy responsibly!