THIS SPICE BLEND IS ONE OF MY FAVORITES!
Having good seasoning and spice blends can take boring food and make it ah-mazing and Za'atar is literally one of the spices I use the most!
First off, what is Za'atar?
a flavorful spice blend used in many dishes throughout the Middle East (and my house!). Curries, dips, meat rubs, and more.
There are many variations of the blend, but here is a simple recipe that is versatile and delicious.
How do I like to use my Za'atar?
The options are endless, but here are some of my favorites.
Made into a dip by simply mixing with some good quality olive oil.
Added to my salads
Sprinkled over avocado toast, eggs, or my shakshouka, for breakfast
Added to creamy hummus.
slathered on my low-carb flatbread and served with kebabs.
Mixed with olives and served up as part of a killer mezze platter.
Used as a spice rub or marinade like in my sumac and za'atar spiced baked chicken.
Honestly, the options are endless with this delicious blend.  Would love to hear how you plan on using yours!
Yield/Servings: 1/4 Cup
Author: Riyana Rupani
Print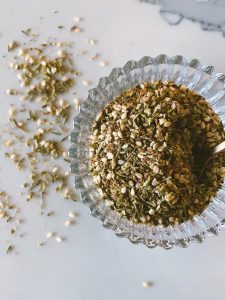 Za'atar
a Middle Eastern spice blend that can be used in so many ways.
PREPARATION TIME: 2 MIN
TOTAL TIME: 2 MIN
INGREDIENTS
2 Tbsp toastes sesame seeds
1 Tbsp dried oregano
1 Tbsp dried thyme
1 Tbsp Sumac
1 tsp cumin powder
1 tsp coriander powder
1.5 tsp salt
1 tsp chili flakes (optional)
INSTRUCTIONS
Mix everything together, done!
Store in an air-tight container.