TWO MY FAVORITE CUISINE FLAVORS BLENDED TO PERFECTION
Sometimes the best things come out of being unprepared.
This Soup was created out of me rummaging through my fridge and trying to satisfy that craving for something comforting, spicy, tangy, and warm.
No doubt I love my Indian flavors and combine them with the aromatic and spices of Thai cuisine and it's pure magic.
The two cuisines actually use a lot of the same spices and herbs so it should be no surprise they work so beautifully together.
We are using red curry paste along with curry powder,  cumin powder, coriander powder, turmeric, and garlic for the base.  Can you feel the warmth just by hearing the spice profile?
Not your conventional recipe but I definitely encourage you to give it a try!
Tangy, savory, and full of spice.
Hope you all enjoy this one!
Yield/Servings: 4
Author: Riyana Rupani
Print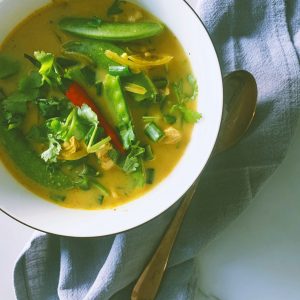 Thai Fusion Curry Soup
A delicios hearty blend of Thai and Indian flavors
PREPARATION TIME: 15 MIN
COOKING TIME: 15 MIN
TOTAL TIME: 30 MIN
INGREDIENTS
1 packet rice noodles, or kelp noodles, or zoodles (zoodles for Whole30)
1 tbsp avocado or coconut oil oil
1/4 cup thinly sliced onion
2 tsp red curry paste (check ingredients for Whole30 & Clean-in-15)
1 1/2 teaspoons curry powder
1/2 tsp ground turmeric
1/2 tsp ground coriander
2 garlic cloves, minced
6 cups chicken broth/stock or vegetable broth
1 can coconut milk
2 cups shredded cooked chicken or prawns or non-GMO tofu
2 tbsp coconut aminos
2 tbsp fish sauce (replace with salt to taste for vegetarian)
1 tbsp lemon juice
3 cups fresh spinach leaves or any asian greens
250g / 0.5lbs snow peas, trimmed and cut in half on a a diagonal
1/2 cup chopped green onions
1/2 cup chopped fresh cilantro
2 birds eye/thai chiles, seeded and chopped, or 1/4 teaspoon crushed red pepper (or more to taste
fresh lime wedges
chopped cilantro for garnish
INSTRUCTIONS
Soak your rice noodles per package instructions, or your key noodles in hot water for 30 minute, or make your zoodles and keep aside for later
Heat oil in pot over medium-high heat. Add sliced onion along with your spices and garlic. sauté 1 minute, stirring constantly.
Add chicken broth/stock to the pot, and bring to a boil.
Add coconut milk and reduce heat, and simmer 5 minutes.
Add chicken, coconut aminos, fish sauce, lemon juice, and your veggies and cook for 2 minutes.
Stir in the cilantro and spring onion (saving some for garnish)
Divide your noodles/zoodles into bowls and pour the soup over.
Garnish with scallions, cilantro, chili, and lime wedges.