A QUICK AND FIRY LITTLE SALAD PERFECT TO HAVE HAVE TO START YOUR MEAL OR AS A SNACK.
This cucumber salad is just smashing! ( intended.)
This is a dish inspired by a little appetizer we have at the famous Din Tai Fung.  My kids love going there, and this is definitely one of my favorite dishes there.  I wanted to make a version I could have on the regular at home and this is it.
Just a few simple ingredients and you have a spicy, tangy, fresh cucumber salad. 
So what are we using?
Coconut aminos instead of soy sauce to avoid soy, gluten, and high sodium. 
Apple Cider Vinegar for its gut and blood sugar benefits
Ri's Garlic Chili Oil which is full of flavor and good for you ingredients and no inflammatory oils and preservatives.
This salad is so refreshing and tasty, I'm sure you are going to be having it on repeat!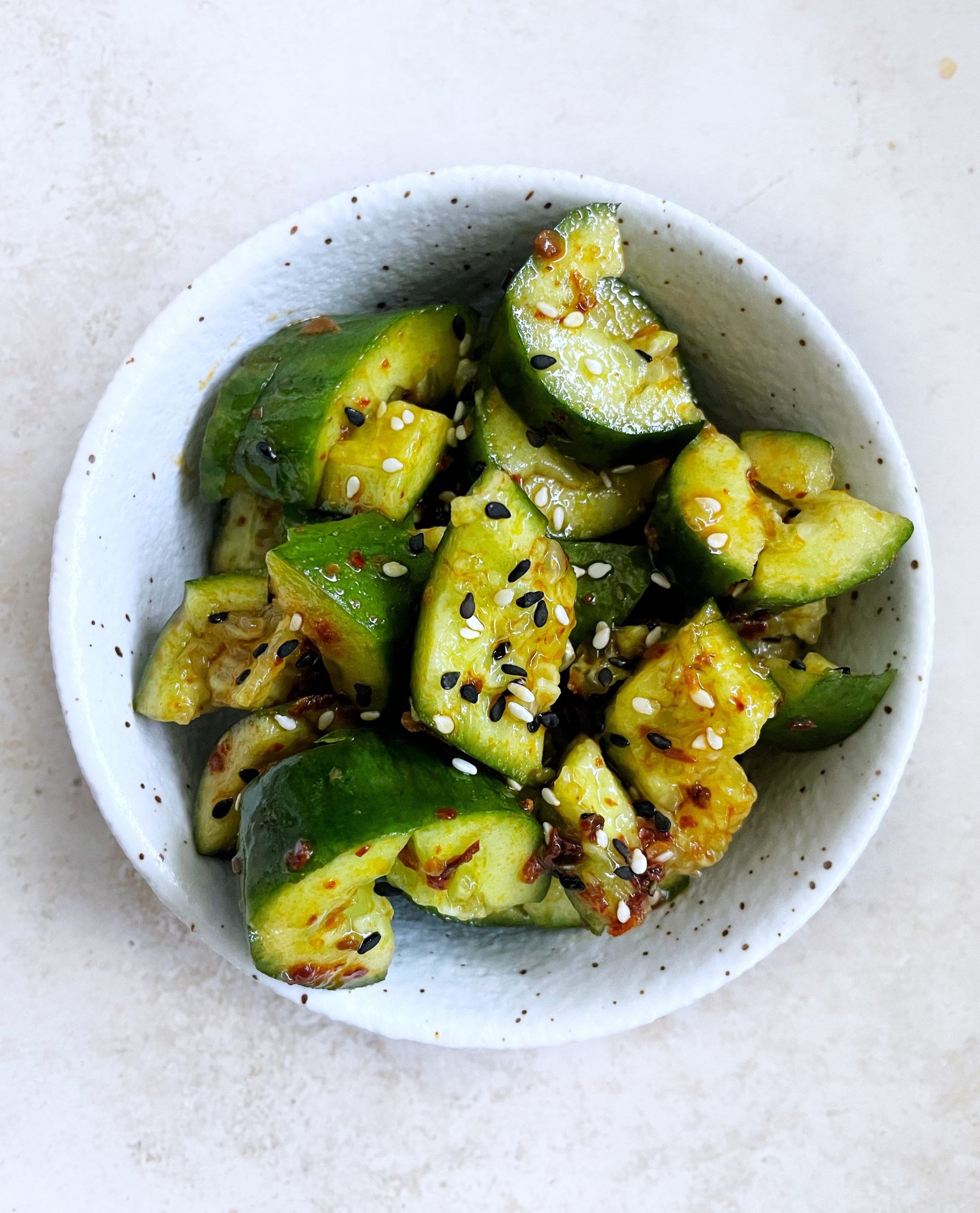 Yield/Servings: 2
Author: Riyana Rupani
Print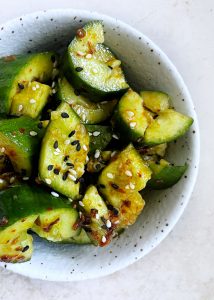 Smashed Cucumber Salad
A delicious & refreshing quick side salad or snack
PREPARATION TIME: 5 MIN
TOTAL TIME: 5 MIN
INGREDIENTS
2 small Japanese or Lebanese cucumbers, washed
1 tsp of coconut aminos
1 to 2 tsp of garlic chili oil
1 tsp sesame oil
salt to taste
1.5 tsp apple cider vinegar
Optional - roasted sesame seeds to garnish
INSTRUCTIONS
Lay your cucumber on a cutting board, and trim the edges.  Then with the flat of your knife, smash the cucumber a few times so that you crush it.  Once crushed, chop the cucumber into 1-inch pieces.  Add to a bowl, and repeat with your 2nd cucumber. (Crushing the cucumber give more surface space and texture to absorb all the flavor from the seasoning.
Add all the rest of your ingredients and toss.  Taste and adjust seasoning according to taste. 
Top with roasted sesame seeds and enjoy immediately.