THIS DAIRY-FREE MILK REPLACEMENT IS ONE OF MY FAVORITES. ITS SMOOTH, CREAMY, DELICIOUS AND A CINCH TO MAKE!
I love this in my coffee, matcha, smoothies, and just about anywhere conventional milk is used.
It's great for kiddos too.  Mine love this straight-up or with my Nut-Free Chocolate Granola! ⠀
⁠⠀
When you go paleo or whole30 or are just trying to avoid dairy this recipe is a wonderful DIY option.  I found myself going overboard with almond milk when I went dairy-free and I wanted to change things up.  This milk is the perfect option!  Both the coconut and the cashews are naturally sweet nuts so if you prefer, you can omit the date.  
Check out my coconut cashew creamer if you are looking for something richer!  
Yield/Servings: 3-4 Cups
Author: Riyana Rupani
Print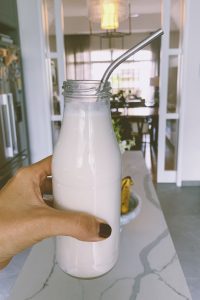 Coconut Cashew Milk
a deliciously creamy non-dairy milk replacement
PREPARATION TIME: 5 MIN
INACTIVE TIME: 20 MIN
TOTAL TIME: 25 MIN
INGREDIENTS
1 cup raw cashews
1/2 cup shredded dried coconut
1/4 tsp salt
1 Medjool date pitted (optional)
3 cups of filtered water
INSTRUCTIONS
Soak your raw cashews in hot water for 20-30 minutes.
Discard the water and add your cashews along with the rest of the ingredients to a high-speed blender.
Blend for 2-3 minutes.
Strain through a nut milk bag.
done
NOTES:
I use the pulp leftover as a fat source in my smoothies or to make baked goods, granola, or bliss balls!