NEED SOMETHING NEW FOR MEATLESS MONDAY?

This is definitely my favorite vegetable curry. It's hardy, creamy, and delicious!
I personally love a good Korma, and after many many tries to make a paleo style one at home, I finally nailed it!
Korma is usually made with yogurt which gives it a mild tangy flavor but I find it works well without. The cashews and coconut milk make the gravy delectably creamy. If you still want a little bit of that tangy flavor, feel free to add in a bit of lemon juice.
In the recipe, I have listed the vegetables that I used, but feel free to sub with whatever you prefer or have on hand. This recipe is quite versatile and I feel would taste good with anything in it.
Serve it on top of Basmati or cauliflower rice for a perfect vegetarian meal!
Yield/Servings: 3-4
Author: Riyana Rupani
Print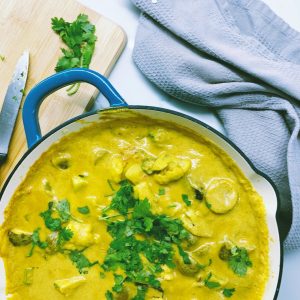 Paleo Vegetable Korma
A delicious mild and creamy vegetable curry - Paleo & Whole30
PREPARATION TIME: 15 MIN
COOKING TIME: 15 MIN
TOTAL TIME: 30 MIN
INGREDIENTS
Korma Base
1 medium onion, peeled and halved
3 cloves garlic, peeled & roughly chopped
1-inch piece ginger, peeled & roughly chopped
1 green chili, chopped (optional)
1/4 cup raw cashews
1/2 cup water
Korma Curry
1 tbsp coconut oil
2 tsp curry powder
1/2 tsp cinnamon
1/8 tsp ground cardamom
1 tsp ground turmeric
1 tsp garam masala
1/2 tsp coriander
1/2 tsp salt (or to taste)
1/2 tsp ground black pepper
2 small tomatoes, diced
1 can, unsweetened full-fat coconut milk
1 medium potato or sweet potato, peeled and diced
1/2 head cauliflower cut into florets
1 cup chopped green beans
1 carrot chopped
chopped fresh coriander (for garnish)
INSTRUCTIONS
Stove Top Method
Place the onion, garlic, ginger, chili, and cashews in a blender along with 1/2 cup of water. Process until smooth.
Heat the coconut oil in a large pot.  Once hot, pour the blended sauce base mixture into the pot.
Add all your spices from the curry powder to the salt & pepper and allow to cook for 2 to 3 minutes, until fragrant.
Add the coconut milk and vegetables. Stir well, cover the pot, and allow to simmer on medium/low heat for 10-12 minutes or until the potatoes are tender. 
You may need to add a bit of water if you find the curry too thick.
Garnish with fresh chopped coriander.
Instant Pot Method
Follow steps 1-4 as above on the saute function
Close the pot, make sure the vent is set to sealing, and cook on manual high pressure for 6 minutes.
release the pressure manually.
add water if needed, give everything a good mix.  
garnish with fresh chopped cilantro