READY FOR SOME NEW FLAVORS?

This recipe isn't likely to resemble the typical curry you are used to, and that's a good thing!
I love curries, stews, and most dishes cooked in a pot of delicious gravy… maybe its the slurp effect or maybe its the warm feeling it gives me, either way, I love preparing and eating them!
Most curry dishes have a robust and savory flavor, but this curry is a little different. it starts off with a mild sweetness from the coconut milk, cinnamon and cardamom, and finishes with a lovely spice that hits the back of your throat from the chili and ginger.
This curry will definitely tick all your flavor boxes and leave you feeling warm and satisfied.
If you aren't fond of prawns, you sub with your favorite vegetables. Zucchini, sweet potato, beans, okra, and carrot all work well from my experience.
Curry is typically meant to be served over rice but if you are going grain-free or doing a Whole30, sub with cauliflower rice or simply enjoy this solo as an Indian stew.
Yield/Servings: 2
Author: Riyana Rupani
Print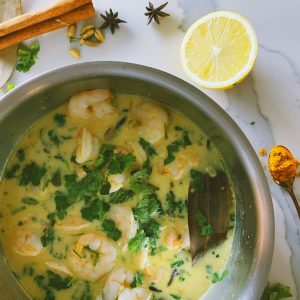 South Indian Shrimp Curry
This Paleo & Whole30 recipe is warming and full of beautiful aromatics
PREPARATION TIME: 10 MIN
COOKING TIME: 10 MIN
TOTAL TIME: 20 MIN
INGREDIENTS
1 Tbsp Ghee
1 Bay Leaf 
1 Stick of Cinnamon 
1 Star Anise 
3 Cloves 
3 Green Cardamom 
1 medium Onion, finely chopped 
3 cloves of Garlic, finely chopped 
2 inches of ginger, grated
2 red or green chillis, finely chopped 
1 can of  coconut milk 
1/2 tsp turmeric powder
Salt to taste 
500 grams cleaned Shrimp 
1/2 Lemon juice and zest
1/3 cup fresh chopped cilantro
1/3 cup fresh chopped mint
water if needed (to thin the curry)
INSTRUCTIONS
In a pot on medium-high heat, heat your ghee. 
Once hot, add the bay leaf, cinnamon, star anise, cloves, and cardamom. Stir for 15-20 seconds until the spices have become fragrant. 
Add onions, and sauté until softened. 
Next add the garlic, ginger, and chillis, and turmeric. Sauté for another 20-30 seconds. 
Pour in the coconut milk and season with salt to taste.  (If you find the curry too thick, feel free to add some water to thin)
Bring the curry to a simmer, and add the shrimp. 
Cook the shrimp on medium-low heat for approximately 1-2 minutes or until just cooked through. 
Remove from heat. Squeeze in lemon juice, and add the lemon zest, chopped cilantro, and mint. Stir through, and done.