THE PERFECT GRAIN FREE SIDE TO YOUR NEXT INDIAN MEAL
This Grain-Free Indian flavored cauli-rice is a winner!
Made this DELISH cauliflower rice last night.
We were having chicken kebabs and needed a flavorful side to accompany.  Ususally I would pair my kebabs with my lemon turmeric pulao but was craving something light but still full of flavor.
The lemon & turmeric work so nicely together and the warmth of the mustard seeds, cumin seeds, and curry leaves gives balance.   This one is definitely going in the cauliflower rice rotation!
I've added some shredded coconut and roasted cashews to add some lovely texture.  I don't know about you, but I'm not a fan of mushy cauliflower rice!
2 tips when it comes to cauliflower rice.
⁠
1. Don't over-process it
2. Don't overcook it
Both of these will leave you with a bowl of mush!⁠
I love this rice served up alongside my
Yield/Servings: 4
Author: Riyana Rupani
Print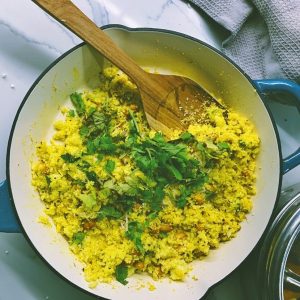 Turmeric Lemon Cauliflower Rice
The perfect grain free side to your next indian meal
PREPARATION TIME: 8 MIN
COOKING TIME: 12 MIN
TOTAL TIME: 20 MIN
INGREDIENTS
2 tbsp coconut oil
1 tbsp mustard seeds
1 tbsp cumin seeds
1-2 green chills, chopped
6-10 curry leaves
1-inch piece ginger, grated
1/4 cup roasted or raw cashews
1 tsp turmeric
3 cups raw cauliflower rice
1/2 lemon zest & juice
1 tsp salt or to taste
1/4 cup shredded coconut
1/4 cup fresh cilantro, chopped
INSTRUCTIONS
Heat the oil in a pan, once hot, add the mustard seeds, cumin seeds, ginger, chili, nuts (if using raw), & curry leaves. Let sizzle for 10-15 seconds or until fragrant. Please be careful as the mustard seeds can pop!
Next, add turmeric and let cook for 10 seconds.
Add  the rest of your ingredients except lemon zest and roasted nuts if using. Toss to coat the cauliflower and cook for about 6-10 minutes or to your desired doneness.  If using frozen cauliflower, this could take a little longer. 
Turn off the stove and add in your lemon zest and roasted cashews. give a good mix, garnish with cilantro, and enjoy alongside your favorite Indian curry or kebab!
NOTES:
If using roasted cashews and are doing a Whole30 or Clean-in-15, ensure they are compliant! many brands use corn starch and seed oils.