HANDS DOWN LARB GAI IS ONE OF MY FAVORITE THINGS TO EAT!
What's there not to love about Larb Gai?
It's simple to whip up, tastes amazing hot or cold, and is so fresh and satisfying.  I swear, there have been weeks where I have had this day after day.  It really hits all the flavors I love.  Spicy, sour, salty, a little sweet, and all the herbs just take it to another level.  Literally drooling thinking about this dish as I type!
I love this dish served up a few ways.
Alongside some lovely steamed Jasmin rice.
Paired with some cabbage wedges, cucumber sticks, and green beans (how it's traditionally served).
Or served up in lettuce or cabbage bowls.
This dish is wonderful for entertaining or taking it with you on the go.
For the meat, you can use chicken, pork, or beef. Pro tip – go for ground meat that has a little fat. Otherwise, your Larb will be quite dry.
Doing a Whole30 or Clean-in-15?  No problem, sub the toasted rice for some chopped or crushed nuts.  I like toasted cashews!
If you love Thai flavors like do, try out some of my other Thai recipes.
Yield/Servings: 4
Author: Riyana Rupani
Print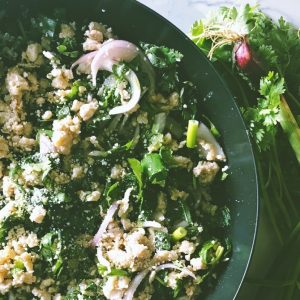 Thai Larb Gai
A delicious Thai salad great for a starter or a main
PREPARATION TIME: 5 MIN
COOKING TIME: 10 MIN
TOTAL TIME: 15 MIN
INGREDIENTS
2 tablespoons uncooked rice *(see note for Whole30 / Clean-in-15)
500g ground chicken, pork, or beef
1 Tbsp Avocado Oil
Sauce
3 tablespoons fish sauce
2 tsp coconut aminos
1/4 cup lime juice
1 teaspoon salt, or to taste
1/2 tsp chili flakes or fresh red chili (or to taste)
Herbs
1 lemongrass stalk - white and light green part, finely chopped
2 shallots thinly sliced
3 scallions, chopped
1/2 cup cilantro chopped
1/2 cup mint chopped
1/2 cup Thai basil chopped
INSTRUCTIONS
In a skillet on low heat, add uncooked rice and toast until light golden brown, about 7 minutes. Once cool, coarsely grind using a spice grinder. (skip this step if using nuts). reserve for later.
In a bowl, mix together all your sauce ingredients and reserve for later.
In the same skillet, you toasted your rice in, heat your avocado oil on medium-high, and add the ground meat. Break the meat up into small bits and cook until all the liquid has evaporated and the meat has brown and cooked through about 8-10 minutes. Turn your heat off. Add in your sauce and give everything a good mix.
Transfer to a bowl and add your herbs and toasted ground rice or chopped nuts. Mix to incorporate, give it a taste, and adjust seasoning as needed.
NOTES:
Replace the rice with chopped toasted cashews if doing a Clean-in-15 or Whole30