THERE IS ALWAYS A HEALTHIER VERSION!
Diwali, a time to fill your house with lights, good vibes, friends, and family. And a chance to welcome all the abundance you crave for the new year.
A big part of the Diwali festivities is eating (lots and lots of eating) with a big focus on all the delicious sweets. Every year I try and "healthify" some of my favorites, and this year I was going for coconut laddus.
This one is super simple and requires minimal prep or downtime. I was going for a nut-free version and made these with sunflower seeds but these turn out wonderful with any nuts or seeds (I love cashews, almonds, pistachios, and even walnuts).
Yield/Servings: 24 Small Laddus
Author: Riyana Rupani
Print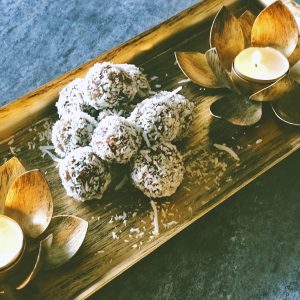 Coconut Laddu
A sweet healthier treat this Diwali
PREPARATION TIME: 15 MIN
INACTIVE TIME: 1 HOUR
TOTAL TIME: 1 H & 15 M
INGREDIENTS
1/2 cup sunflower seeds or nut of choice
20 medjool dates (pits removed)
1 cup shredded coconut divided
2 tbsp coconut oil
2 tbsp water
1/2 tsp cardamom powder (optional)
INSTRUCTIONS
Add sunflower seeds to a food processor and pulse until coarsely chopped.
Next add in your dates, 1/2 the shredded coconut, all of the coconut oil, water, and cardamom powder.
Process until all the ingredients come together.
Line a tray with parchment paper. Use a cookie scoop or spoon to portion out and roll into approximately 1 inch balls.
Coat each ball by rolling them in the remaining 1/2 cup shredded coconut and place them on your baking tray. Refrigerate for 1 hour to set.