HAVE A HAPPY AND HEALTHIER DIWALI!
Diwali is a time to fill your house with lights, good vibes, friends, and family. It's time to focus on what's important to you and to welcome abundance in the new year.⠀
⠀
Diwali officially kicks off the holiday season if you ask me.  Lots of gatherings, time spent with loved ones, and lots and lots of eating!  During Diwali, it is customary to give out Indian sweets (mithai) to friends, family, and as an offering to the Gods.  Getting and giving sweets is part of what makes Diwali, Diwali and while I love mithai, I'm not thrilled with the heavy use of refined sugars and other not so friendly ingredients.
This Diwali my mithai is homemade!  Full of whole ingredients and no-refined sugar.
Super simple to make with only 6 ingredients!
Promise you won't miss the sugar-loaded commercial stuff.
Have a Happy & Healthy Diwali All!
Yield/Servings: 12 Squares
Author: Riyana Rupani
Print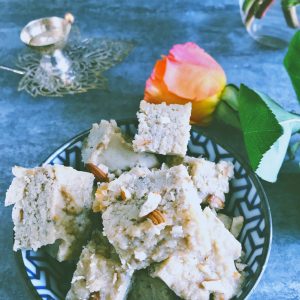 Coconut Burfi Mithai
A delicious paleo version of this amazing Indian mithai
PREPARATION TIME: 10 MIN
COOKING TIME: 10 MIN
INACTIVE TIME: 10 HOURS
TOTAL TIME: 10 H & 20 M
INGREDIENTS
10 cashews or nut of choice roughly chopped
2 tbsp coconut oil or ghee
1 cup coconut cream
2-3 tbsp honey, depending on how sweet u like it. *(see notes for sugar-free)
1 cup finely shredded coconut
8-10 cardamom pods (opened & seeds crushed) or 1/4 tsp cardamom poweder
INSTRUCTIONS
In a pan heat 1 tbsp coconut oil or ghee.
Add chopped nuts and brown slightly then remove and set aside.
Add 1 more tbsp coconut oil or ghee and the shredded coconut.
Toss and toast for 1 minute then remove from heat and keep aside.
Next add coconut cream, honey, cardamom powder and stir on a low flame till combined well.
Add back the shredded coconut and nuts and mix well.
Scoop into a square pan or dish and put in the freezer for 1 hour or the fridge for 4-5 hours to set.
Cut and enjoy
NOTES:
*You can replace the honey with 4 tbsp Lakanto 1:1 sugar or any erythritol sweetener