SIMPLE, YUMMY, AD A COMPLETE MEAL
Looking for more delicious no-fuss recipes for lunch? 
Here is another one for you.  My no buss buffalo chicken salad.
Many of my clients are busy and the last thing I want to do is over-complicate their lives by adding hard to follow recipes with a lot of ingredients.  Don't get me wrong, I love those type of recipes for when I have the time but sometimes you just need something fast, filling, and tasty!
This salad is definitely in my lunch rotation and I love it on top of half baked sweet potato or over salad greens for a complete meal.  Add as many different veggies to the base to really up the nutrition value.  You have all your macronutrients covered!
Protein – Chicken ✅
Good Fat – PrimalKitchen Mayo ✅
Carbs – Sweet potato / Greens ✅
You always want to make sure you are using a good quality mayo and if you are in Singapore like me you have 2 great options.  Primal Kitchen Mayo available on iHerb or The Good Fat Mayo available at little farms.  Don't have access to either?  You can make your own quite simply!  I love the Whole30's recipe.
Yield/Servings: 2
Author: Riyana Rupani
Print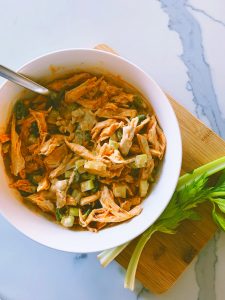 Buffalo Chicken Salad
A delicious, slightly spicy, and easy chicken salad recipe for ya
PREPARATION TIME: 10 MIN
COOKING TIME: 10 MIN
TOTAL TIME: 20 MIN
INGREDIENTS
2 chicken breasts, cooked and shredded
2 celery stalks, chopped
1/2 a red onion, finely chopped
1 green chili, finely chopped (optional)
2 Tbsp Franks hot sauce
2 Tbsp good quality mayo
INSTRUCTIONS
Mix all the ingredients together. Done!
I like this served either on a bed of greens or in a Paleo Wrap, on top of 1/2 a baked sweet potato, or with a side of baked sweet potato fries.