WHAT iS CHILLA or CHEELA?
Chila or Cheela is a savoury pancake which I guess I would call the North Indian version of a dosa.  They are packed with plant-based protein, easy to make and taste great served up in so many ways!  They are made solely of lentils and a few spices so you can easily modify them to your taste.  You can also make them as thick or as thin or as crispy or soft as you like.
A little bit of prep but a lot of uses!
So I guess the only downside to making these is that you have to soak them at least 3 hours, but they are worth the planning.  I often soak them overnight so they are ready to blend up in the AM.  Post soaking them come together really fast.
How and when do I enjoy my Chilla?
I love these served up so many ways, but my top uses are 
as a light vegan protein packed breakfast 
Used as a wrap
served as a replacement for chapati 
as a quesadilla 
or I like to make mini ones to serve as a base for canapés when entertaining.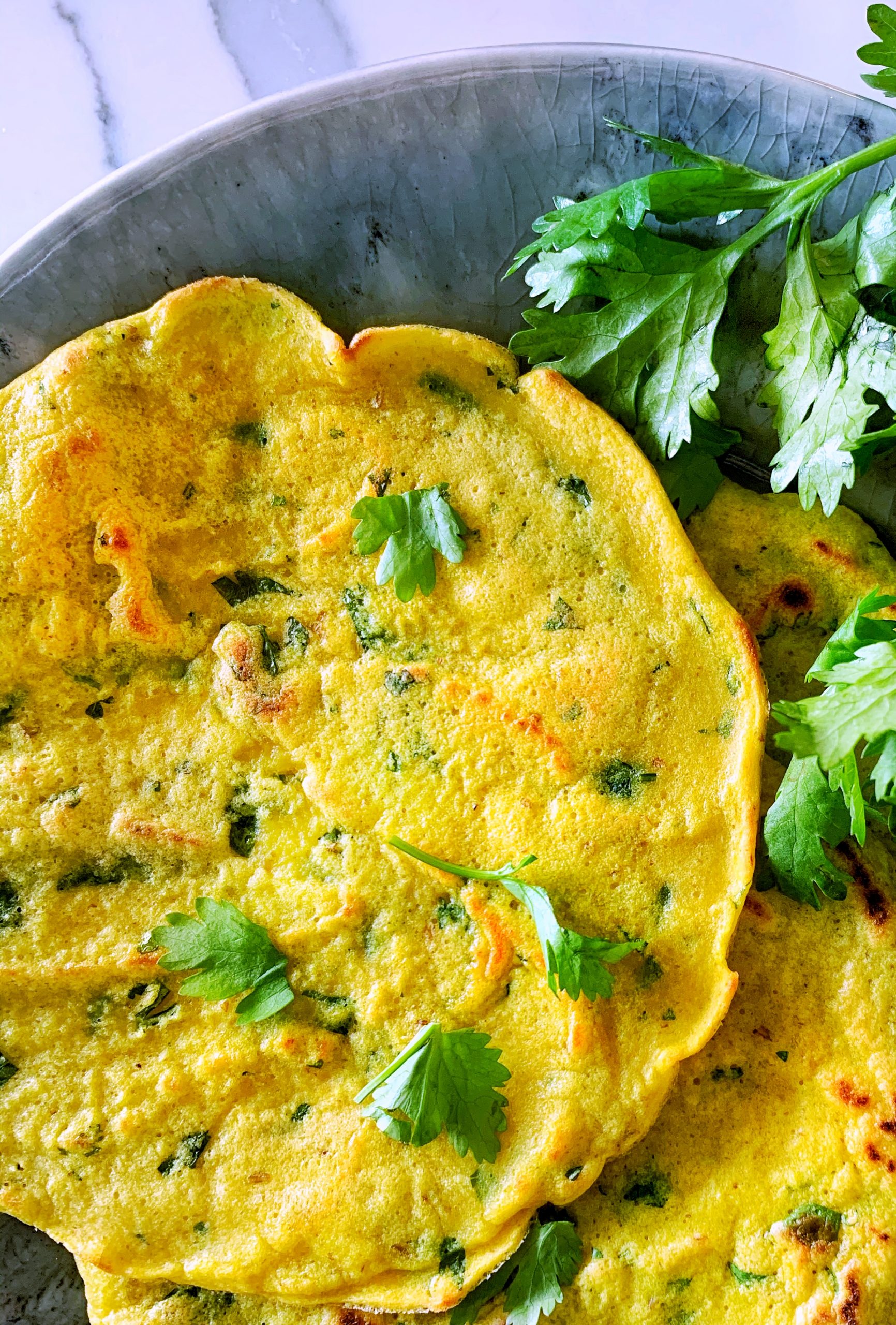 What do I serve my Chilla with?
In regards to macronutrients the chilla is predominantly protein and carbohydrates as they are made lentils so I like to make sure I get some good fats along side.
Serve these up with
No matter how you serve these up, these are light, flavourful and nutritious.
Yield/Servings: 4 To 5 Pieces
Author: Riyana Rupani
Print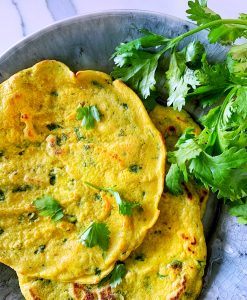 Moong Chilla /Cheela
A delicious Indian style "pancake" that can be served on it's own or as a side.
PREPARATION TIME: 20 MIN
COOKING TIME: 10 MIN
INACTIVE TIME: 3 HOURS
TOTAL TIME: 3 H & 30 M
INGREDIENTS
1 cup moong dal (splint moong lentils) or masoor dal (red lentils)
1 green chili
1 inch piece of ginger, peeled
1 tsp cumin seeds
1/4 tsp turmeric
1/4 cup coriander leaves, chopped
pinch of hing (asafoetida) - optional
1/2 tsp salt
3 Tbsp water
Avocado oil, olive oil, or ghee for cooking
INSTRUCTIONS
In a large bowl cover your daal with water leaving about an inch of water at the top. Soak the dal for a minimum of 3 hours (you can do this overnight too).
Drain the water and transfer to a blender.
Add the chilli, ginger and cumin seeds and blend to smooth paste adding a little water if needed.
transfer the batter to a bowl and add the turmeric, chopped coriander, hing (asafoetida) , salt and about 3 tbsp of water. Mix to form a thick batter.
Heat your non-stick pan (I love my nontoxic greenpans!) well and add about 1 tsp of oil/ghee. Once hot, add about 1/4 cup of the batter and spread gently
pour ½ tsp of oil/ghee over chilla, cover the pan and allow to cook on a medium flame for about 1 minute. Flip the chilla and cook the other side.
Repeat to make about 4-5 chilla.