CREAMY, COLD, CHOCOLATEY, AND KID APPROVED!
Easy dairy-free Fudgesicles to brighten up your day.
You only need 3 ingredients and a few minutes to prep these pops, and even though they are dairy-free they are still smooth and creamy.
Coconut milk has that perfect thick and creamy texture that works so well for dairy-free creamy desserts.  You could use it for a host of flavors!  Replace the cacao with fruit for example.  My favorites are mango, strawberry, pineapple (think piña colada pop!).
If you love these, try my Gut Loving Strawberry Creamsicles!
Yield/Servings: 6
Author: Riyana Rupani
Print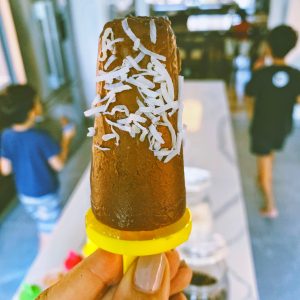 Dairy-Free Fudgesicles
Cold, creamy, chocolaty
PREPARATION TIME: 5 MIN
INACTIVE TIME: 4 HOURS
TOTAL TIME: 4 H & 5 M
INGREDIENTS
1 cup full-fat coconut milk
4 Tbsp Cacao powder
4-6 Tbsp date syrup or maple syrup
Optional - 2 Tbsp collagen
INSTRUCTIONS
Put all your ingredients in a blender and blend until well combined and smooth.
When sweetening, start with 4 Tbsp, taste and adjust.
Transfer to moulds and freeze for a minimum of 4 hours