CHAWAN (tea cup) MUSHI (steam)
What is Chawanmushi ? literally means teacup steamed egg custard. Unlike other egg custard, Chawanmushi is not sweet but it has savoury flavour packed with umami punch!
Texture
You want to ensure your chawanmushi is silky smooth.  I have 2 tips to make this happen.
Be gentle when mixing your ingredients together.  This is to ensure there are no air-bubbles or pockets.  I like using chopsticks for this step… I tend to forget to go slow when using a wisk!
Use a sieve when pouring your mixture into your ramekins/cups. This will ensure consistency and again that nice silky texture.
Ingredients
Traditionally, dashi is used as the liquid in this dish, but I love using bone broth to up the nutritional value of my egg custard.
If you are vegetarian, skip the fish-sauce and use vegetable broth instead!
Toppings
When it comes to toppings, the options are endless.  Mushrooms, prawns, steamed fish cake, fish roe, steamed veggies like spinach and carrot are just few of the popular options.
For me, I'm a purist.  Just a drizzle of Riyana's Private Kitchen Mala, and a light sprinkle of spring onion and I think it's perfect!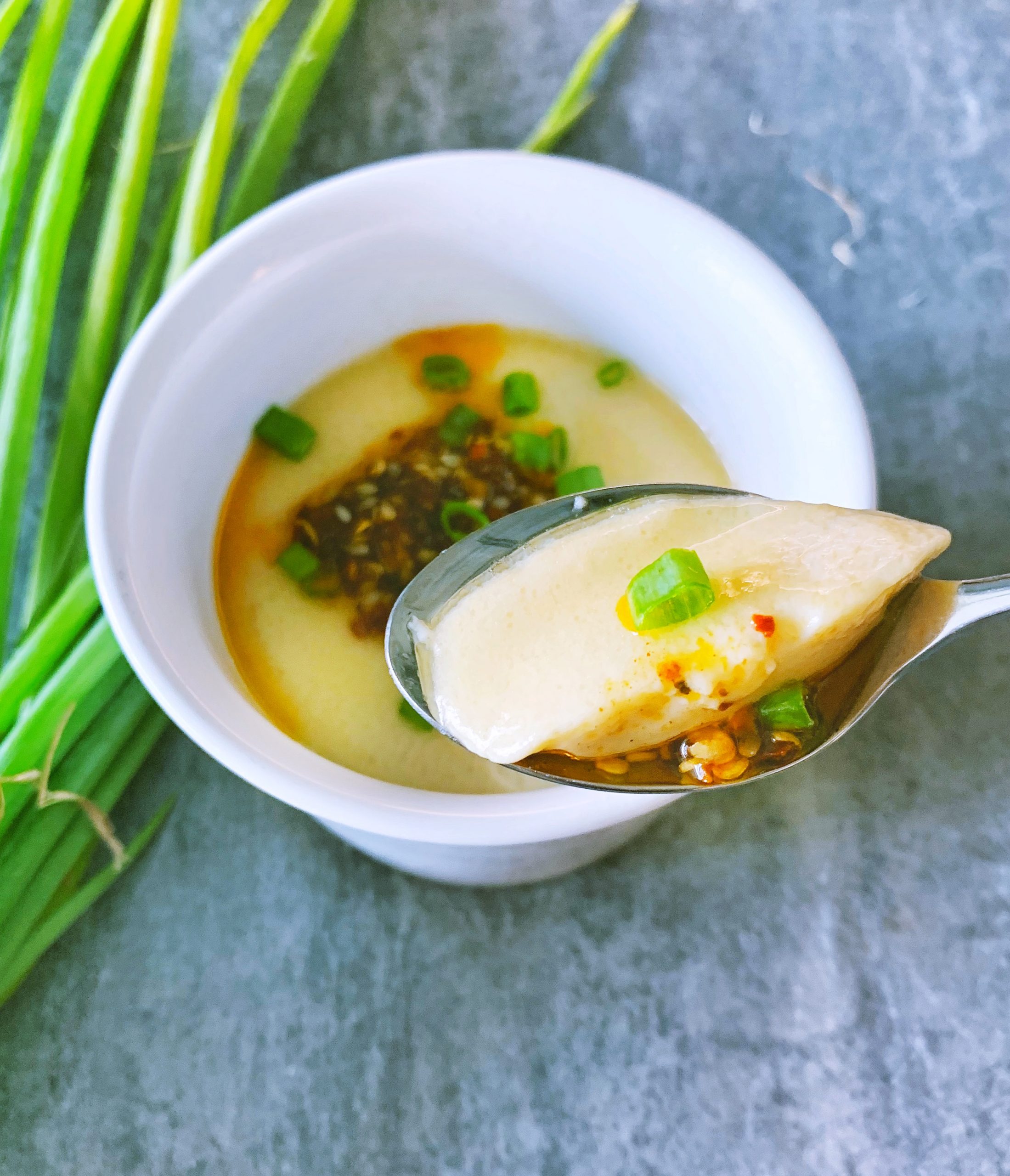 Yield/Servings: 2
Author: Riyana Rupani
Print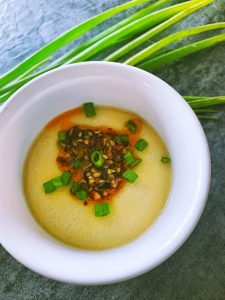 Chawanmushi
Japanese style steamed egg
PREPARATION TIME: 5 MIN
COOKING TIME: 10 MIN
TOTAL TIME: 15 MIN
INGREDIENTS
2 eggs
2 tsp coconut aminos
1 tsp fish sauce (omit for vegetarian)
1/2 tsp sesame oil
300 ml bone broth, vegetable broth, or water, or a mix
Optional Toppings
Chopped scallion
Sesame seeds
Drizzle of sesame oil
INSTRUCTIONS
Mix the ingredients together gently. You don't want to aerate the mixture.
Pour through sieve into two ramekins or cups.
Steam for 10 mins.
Add toppings and serve.