IF YOU LOVE MEXICAN FOOD LIKE ME, THIS DISH IS FOR YOU!
Mexican food can get a bad wrap for being unhealthy but this recipe will prove that wrong.
All the flavors you love about Mexican food in and easy to put together baked dish.  
This dish tastes great at room temp or hot and can be served up in a number of different ways. 
If I'm having it for lunch, I love it over a big bowl of salad greens and topped with some guacamole and fresh jalapeños.
For dinner I like this served up as tostadas or tacos.  Crisp up my paleo paratha in the oven for the perfect grain-free replacement.
No matter how you serve this up, its straight up delish!!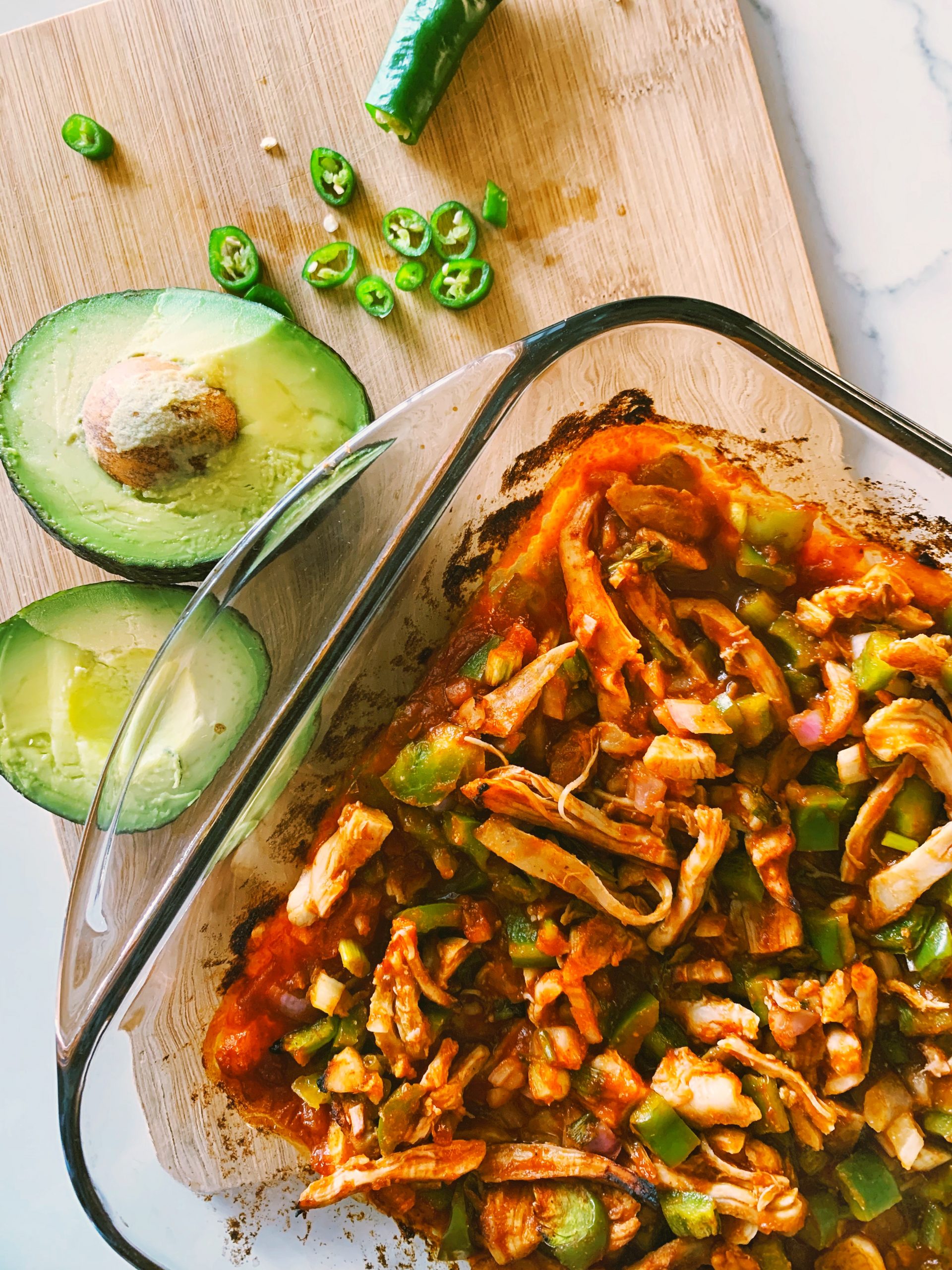 Yield/Servings: 4-5
Author: Riyana Rupani
Print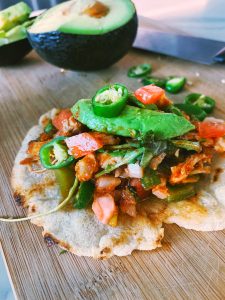 Chicken Enchilada Casserole
A delicious and quick baked enchilada
PREPARATION TIME: 10 MIN
COOKING TIME: 30 MIN
TOTAL TIME: 40 MIN
INGREDIENTS
4 cups pre-cooked chicken, shredded
2 bell peppers, diced
1 red onion, diced
6 green onions, thinly sliced
Enchilada Sauce
235ml/8oz canned tomato sauce
1 cup water
4 Tbsp mild chili powder like paprika/ smoked paprika
1/2 tsp. ground cumin
1/2 tsp. garlic powder
1/2 tsp. onion powder
sea salt and freshly ground black pepper to taste
Serve with /top with
mixed salad green
Diced tomato
Diced Avocado
Guacamole
Salsa
Chopped cilantro
Scallions
Sliced jalapeños
Hot sauce
INSTRUCTIONS
Preheat your oven to 180C/375F.
In a saucepan placed over a medium heat, stir together the tomato sauce, water, mild chili powder/paprika, cumin, garlic powder, onion powder, and season with salt and pepper to taste.
Cook, stirring occasionally, for approximately 10 minutes.
Combine the chicken, bell pepper, red onion, and half of the green onions in a baking dish.
Pour the enchilada sauce on top and mix everything together.
Bake in the preheated oven for 20 minutes.
Remove the baking dish from oven, and sprinkle with toppings of choice.
Serve on it's on with lots of salad greens or use my paleo paratha recipe to make soft tacos or tostadas.