THIS IS ONE OF MY FAVORITE CHINESE DISHES WHICH I HAD TO RECREATE AT HOME!
If you love a good peanut sauce, you are gonna love this!
I personally LOVE a good spicy peanut sauce. The creamy, savory, and spicy flavor of this dish is addictively good.
Honestly, you could use this sauce in many different preparations, but the dish that inspired me to create this sauce is the classic Dan Dan Noodles found at many Chinese restaurants.
The Mala Sauce I use in the recipe is optional, but I'll admit, it really does take it to the next level if you are a fan of Szechuan cuisine. 
This dish is wonderful had as a cold noodle salad, at room temperature, or served warm.  I love this for entertaining and taking with me for picnics.  If you believe it, this dish is even better the next day so leftovers are heavenly!
If you want to add some protein to the dish, adding in any ground meat simply cooked with some salt, pepper, and maybe some coconut aminos is a wonderful add-in.  For vegetarians/vegans use crumbled or cubed tempeh or tofu! 
Feel free to add in or switch up the veggies.  I like to pride myself on my recipes being versatile and easy to make your own. 
CREAMY, SAVORY, AND SPICY.
Hope you all enjoy this one!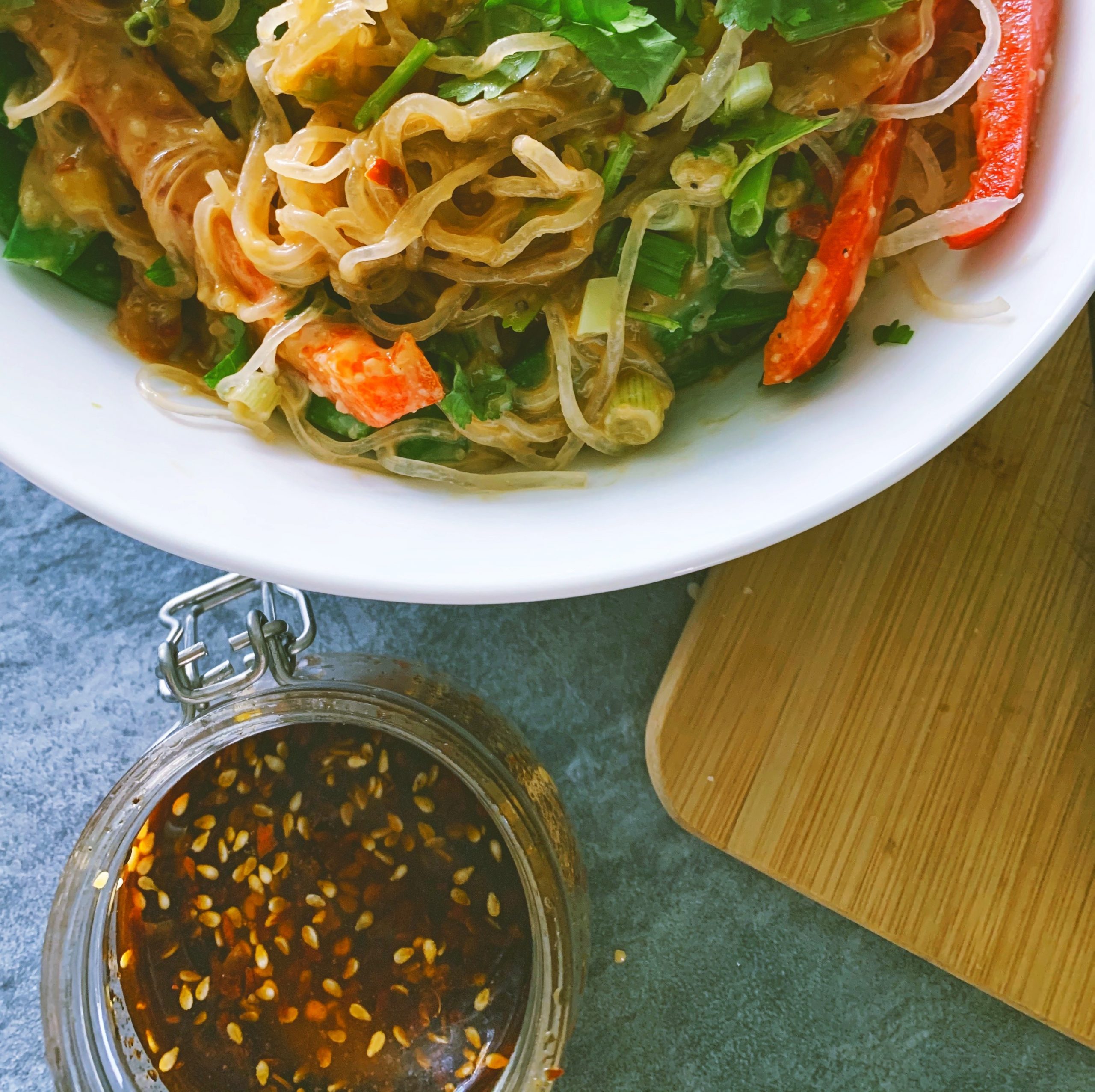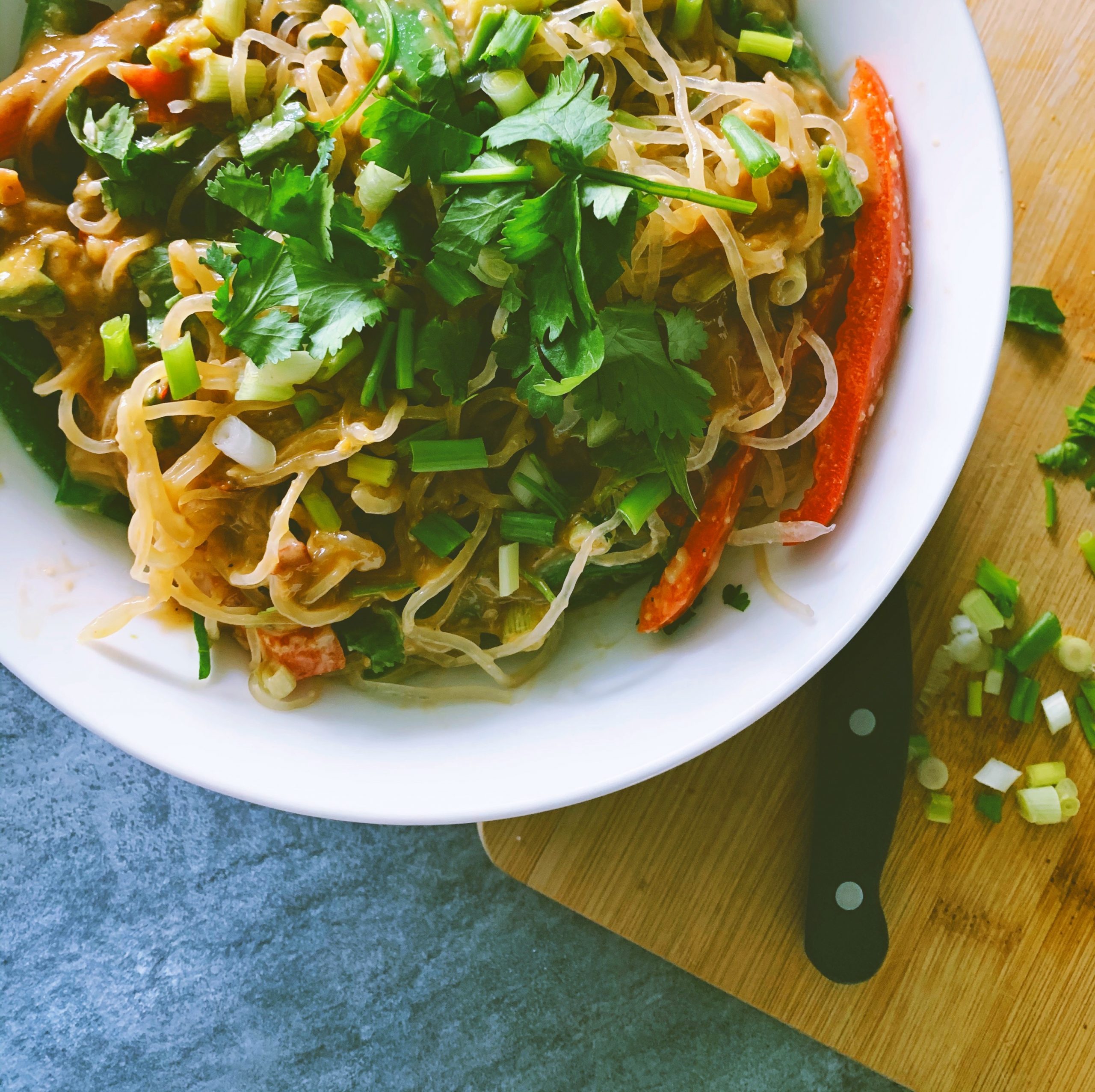 Yield/Servings: 4
Author: Riyana Rupani
Print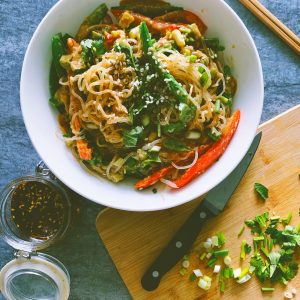 Peanut Noodles
PREPARATION TIME: 10 MIN
COOKING TIME: 10 MIN
TOTAL TIME: 20 MIN
INGREDIENTS
Noodles
1 pack (350g) kelp noodles/rice noodles/ or veggie noodle of choice (I like zoodles or daikon noodles as well) - Whole30 use veggie noodles 
1.5 cups sugar snap peas, trimmed
1 red bell peppers, cored and seeded, and thinly sliced
4 scallions (white and green parts), sliced diagonally
3 tablespoons chopped fresh cilantro
chopped peanuts (for plant-based Whole30 & Clean-in-15) or cashews, and sesame seeds to garnish
Dressing
2 Tbsp avocado oil
1 Tbsp sesame oil
1/4 cup water
1/4 cup rice vinegar
2 Tbsp lime juice
1/3 cup coconut aminos
2 garlic cloves, minced
1 tsp grated fresh ginger
1 Tbsp sesame seeds
1/2 cup smooth peanut butter (Plant-based Whole30 & Clean-in15) or almond butter
1 tsp red chili flakes
1 tsp salt
1 tsp freshly ground black pepper
1-2 Tbsp Riyana's private kitchen Mala or your favourite red chili sauce (check out my quick chili sauce)
INSTRUCTIONS
Prep your noodles according to package instructions.
Bring a pot of water with bit of salt to a boil. Add the sugar snap peas, and blanch them, You want them crisp and tender. After about 30-60 seconds, Lift the sugar snap peas from the water with a slotted spoon and put them in an ice bath to stop the cooking.
Once cool drain and set aside.
For the dressing, add all ingredients to a mason jar and give a good shake or whisk together in a medium-size bowl.
I personally like this recipe warmed but many enjoy this as a nice cold noodle salad.
If having cold, simply combine the noodles, sugar snap peas, peppers and most of the scallions in a large bowl. Pour the dressing over the noodle mixture and give everything a good mix.
For the warm preparation, heat your dressing in a wok and add your noodles, and veggies. Toss and allow everything to warm through.
Lastly, add the scallions, cilantro, chopped nuts, and sesame seeds.
Top with more Ri's Mala or Ri's Garlic chili oil.
FYI - This dish tastes even better the next day, so it's great for entertaining to taking to-go.
NOTES:
*The Mala sauce is optional, but if you are a fan of the popular "Dan Dan Noodles" You would love this added in! *If you are looking to add more protein, you can add cooked minced chicken, beef, or pork to the dish, and for vegetarians/vegans, crumbled tempeh works great!