THIS IS MY GO-TO GRANOLA!
If Granola's your thang, try this low carb version!⠀
People tend to only think of tahini in savoury dishes, but it is soooo good in sweet preparations.  
I have a few baked recipes using tahini, and if you are a tahini fan like me, you are going to love these.
The tahini in all of these recipes give a depth of flavour that can't be replaced!  
Back to the granola.  As a nutritionist I must warn you… Portion control!! 
I see a lot of people having a huge bowl of granola with a few tablespoons of yogurt and a sprinkle of fruit…. this is BAD!
Switch this around and your golden! A good serving of Unsweetened coconut or Greek yogurt, 1/4 cup of granola, and 1/4 cup of fresh fruit and Boom! You have yourself a power breakfast that will keep your blood sugar stable and have you feeling fuller for much longer. ⠀
⠀
Granola can be addictive people, so be mindful!
How do I like my granola?  
Sprinkled as a topping.  Love this over my chia pudding, smoothie bowls, or as a snack over some coconut yogurt with some fresh berries. 
The kids love this too!  I often bring it along if we are heading out for an active day.
You can use whatever nuts and seeds you have on hand.  For this batch I used, almond slivers, chopped pecans, pumpkin seeds, sunflower seeds, and chia seeds.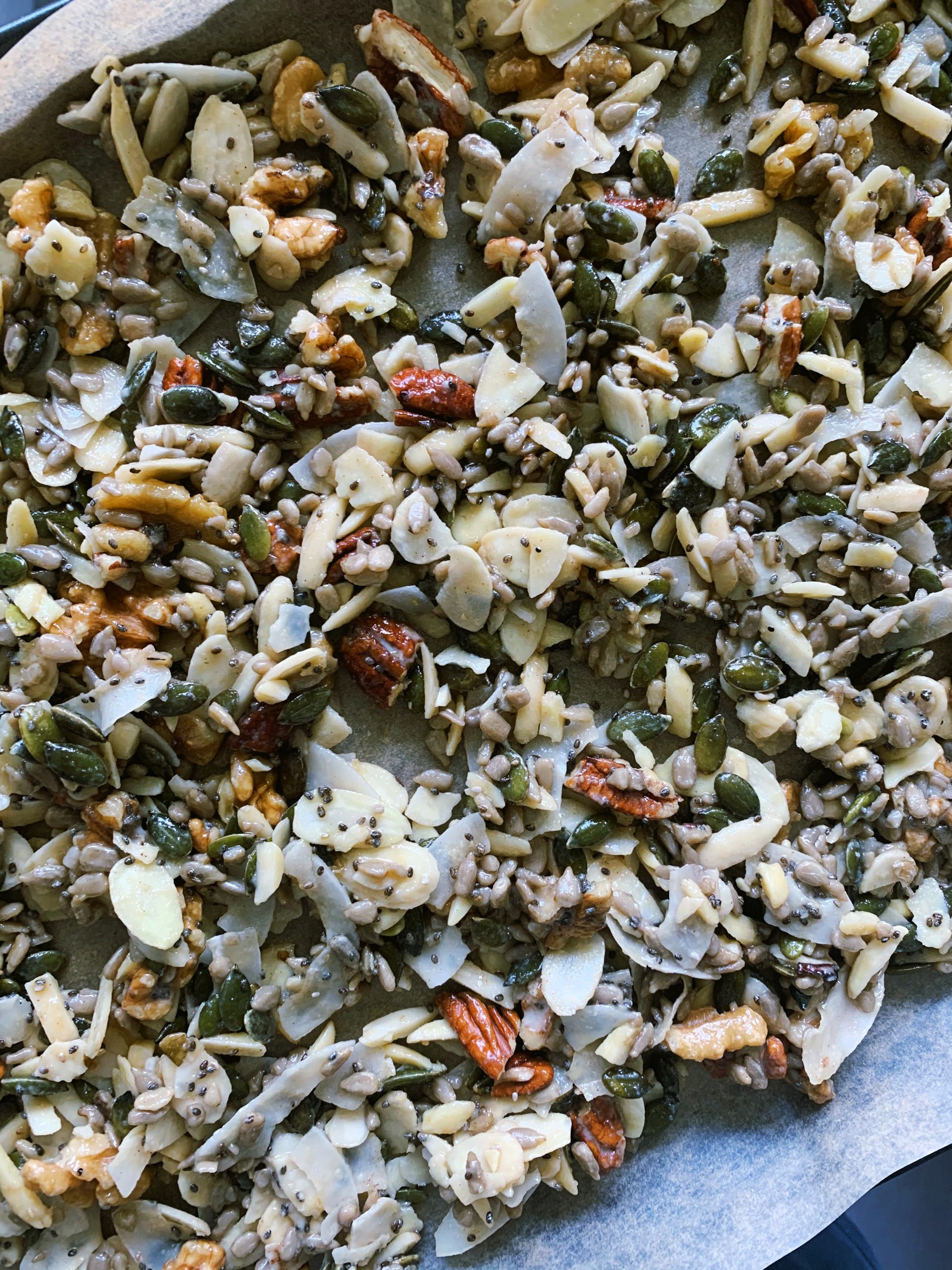 BEFORE BAKING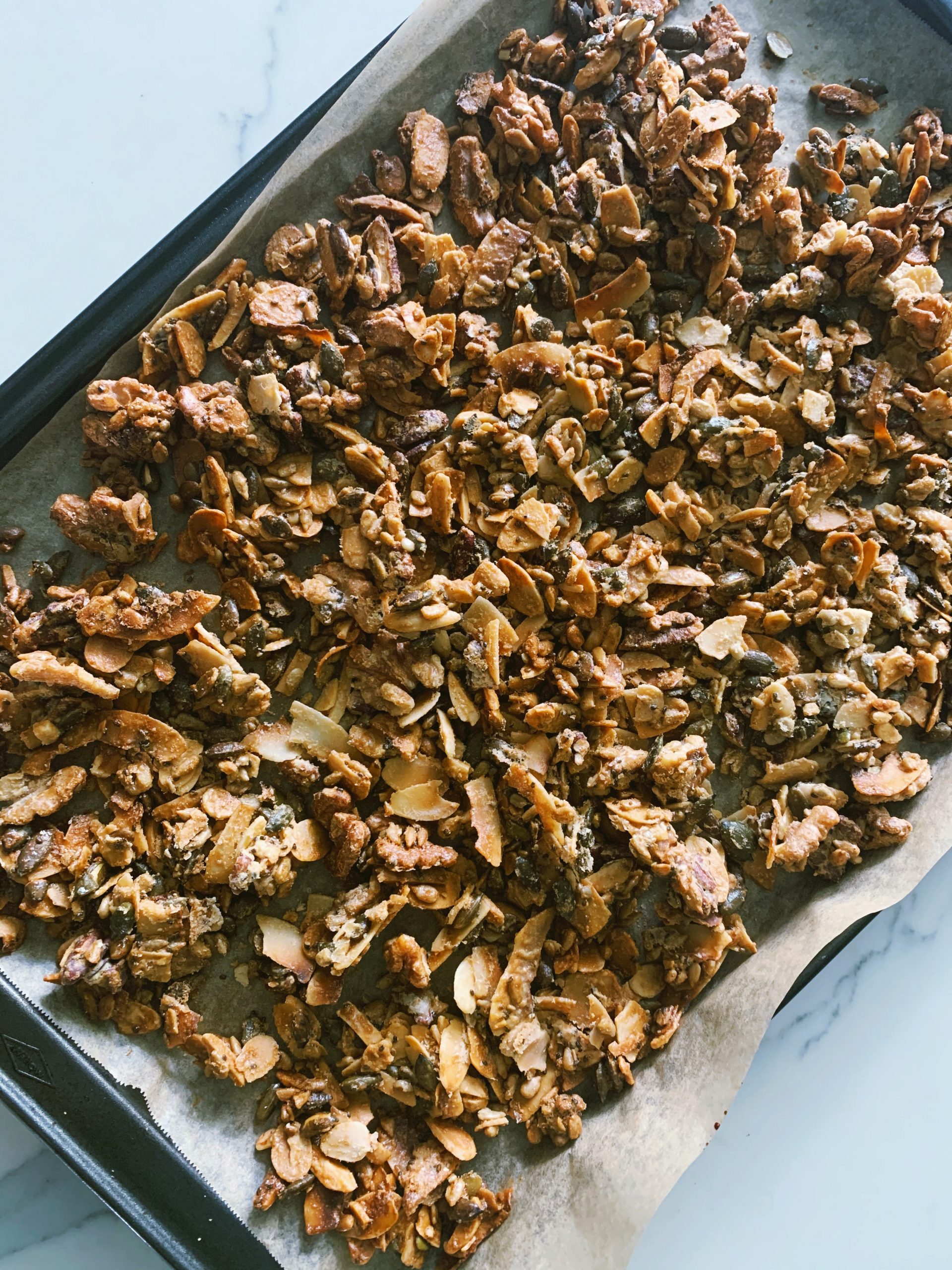 FRESH OUT OF THE OVEN!
Yield/Servings: 4 Cups (16 1/4 Cup Servings)
Author: Riyana Rupani
Print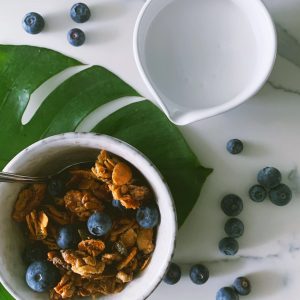 Grain-Free Tahini Granola
A Low-carb granola I know you are going to love!
PREPARATION TIME: 5 MIN
COOKING TIME: 30 MIN
TOTAL TIME: 35 MIN
INGREDIENTS
3 cups of mixed seeds and nuts
1 cup unsweetened coconut flakes
1/4 cup maple syrup or honey (or a combination of the two)
1/4 cup tahini
2 tbsp coconut oil
1 tsp cinnamon
1 tsp vanilla
INSTRUCTIONS
Preheat oven to 300F / 150c.
Line a baking sheet with baking paper.
Mix all the nuts and seeds in a large bowl.
In a saucepan gently warm through the wet ingredients along with the cinnamon until well combined.
Pour over nut/ seeds and mix until well combined.
With a spatula, transfer to the baking pan and even out.
Bake granola, tossing and rotating sheet every 10 minutes, until golden brown. It should take around 30 minutes total. Remember to keep a close eye because you don't want it to burn.