HANDS DOWN ONE OF MY FAVORITE RECIPES ON THE BLOG!
This salad is full of wonderful Thai flavors. It's creamy, crunchy, and simply delicious!
I have had friends call this my pad-thai salad and I have to agree, it does have similar flavor notes. I personally love pad-thai but love the greens in this recipe more! You get all the favor without all the guilt! I highly recommend making this salad with hearty leaves such as Kale and cabbage. They really hold up well to the dressing.
For your protein source, you have a few options. Chicken, simply grilled prawns, or quinoa. The choice is yours, all 3 are fab. Here is the dressing I use. It works wonderfully as a dipping sauce for satays and veggies or slathered over any grilled meat!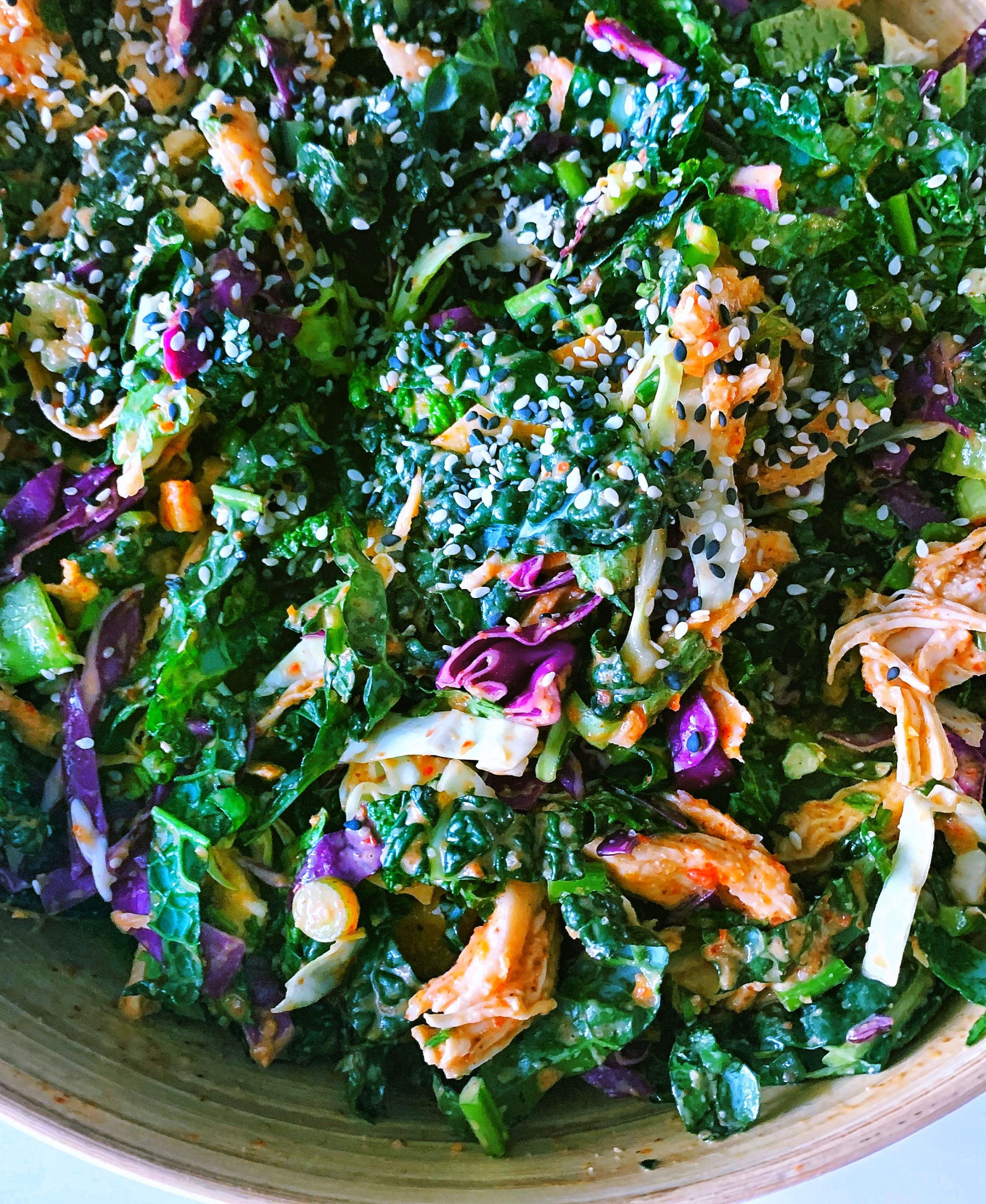 Thai Kale Salad
A delicious Thai inspired salad that has both Vegan & Whole30 options
Preparation time: 10 M
Cooking time:
Total time: 10 M
Ingredients:
2 Chicken breasts grilled & Shredded or 20 pieces grilled prawns (for Whole30 or Paleo) or 1 cup cooked Quinoa (for Vegan)
250 grams broccoli sliced and chopped
½ red bell pepper sliced
1 ½ cup shredded purple cabbage
1 ½ cup shredded kale
¼ cup chopped cilantro
¼ cup chopped mint
¼ cup chopped scallions
⅓ cup chopped almonds or almond slices
black and white sesame seeds (optional for garnish)
Instructions:
How to cook Thai Kale Salad
Mix all your salad ingredients along with the choice of protein, and dressing. Toss to coat.