THERE IS SOMETHING SO WARM AND COMFORTING ABOUT THE MIXTURE OF SPICES IN CHAI!
Here is my favorite blend but feel free to play with the flavors depending on how you like them.
Chai is a magical spice blend found in almost every Indian home.  No matter how you choose to use it, you will get something comforting and soothing.
The spices I use in my chai masala are ginger, cinnamon, clove, cardamom, fennel, nutmeg, and black pepper.  All of these spices have medicinal benefits and are wonderful for your blood sugar, immune system, and digestion.
If you are feeling fancy, combine this with some dried rose or lavender.  Both combinations are devine.
How do I use my Chai Masala?
baked goods like these muffins
masala milk (masala chai without the chai!)
Feel free to play with the proportions to fit you best, this is the way I like it.
Yield/Servings: 1 Cup
Author: Riyana Rupani
Print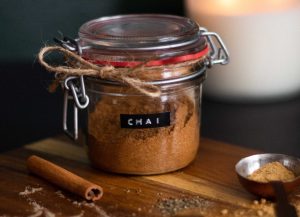 Chai Masala (Chia Spice Blend)
a magical spice blend found in most Indian homes
PREPARATION TIME: 5 MIN
TOTAL TIME: 5 MIN
INGREDIENTS
4 tbsp ginger powder
4 tbsp ground cardamom
2 tbsp ceylon cinnamon powder
1.5 tbsp fennel seeds
1.5 tsp ground nutmeg
2 whole cloves
1 whole star anise
1 tsp fresh ground black pepper
INSTRUCTIONS
Pound these together with a mortar and pestle or blend them using a spice grinder, coffee grinder, or high power blender.
This makes about 1 cup of chai spice