THIS DAIRY-FREE CREAMER WILL TAKE YOUR COFFEE TO THE NEXT LEVEL!
If you love a rich, creamy coffee, but can't handle dairy, you are gonna love this dairy free vanilla creamer recipe.
Back in my dairy drinking days I used to love my coffee with a good amount of creamer.  I had a weekend tradition which included sitting outside, enjoying the breeze, and sipping on my warm, creamy coffee.
Unfortunately, I had to give up that tradition for a while until I discovered this beautiful concoction!
Creamy, rich, smooth, and just the perfect amount of sweetness!  I hope you love this as much as I do!⁠⠀
If you are looking for something a bit a lighter check out my coconut cashew milk recipe which works well as a milk replacement in just about anything!
Yield/Servings: 3
Author: Riyana Rupani
Print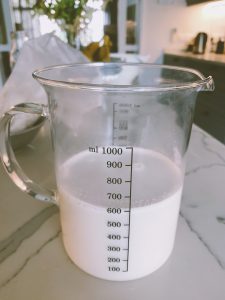 Coconut Cashew Creamer
a delicious dairy-free creamer
PREPARATION TIME: 5 MIN
INACTIVE TIME: 1 HOUR
TOTAL TIME: 1 H & 5 M
INGREDIENTS
2 cups raw cashews
3 pitted medjool dates
3 cups filtered cold water
1 tsp pure vanilla extract
small pinch of sea salt
1/2 regular can full-fat coconut milk
INSTRUCTIONS
Place the cashews in a bowl of hot water and soak for 1 hour
Discard the water and add the cashews and dates to a blender with 3 cups of filtered water. Blend on high for 1-2 minutes, until very smooth.
If you aren't using a high-speed blender, you may need to strain the cashew milk with a nut milk bag or cheesecloth to remove some of the bits.
Add the remainder of the ingredients to the blender and blend for 30 seconds to incorporate.
Store in the refrigerator for 1 week.