A HEAVENLY SWEETENER YOU CAN USE AS A SUGAR REPLACEMENT IN JUST ABOUT ANY RECIPE!
Date Paste is a wonderful natural sweetener which is a cinch to make and so much better for you than your average sweetness.
Dates & Blood Sugar
I love dates because of their balanced fiber and low glycemic index which makes it gentle on our blood sugar levels.  When we eat, we never want our blood sugar to spike drastically.  We want it to rise slow and steady.  Out of all the sweeteners out there, dates seems to be the most successful at this.
How to use date paste
You can use it to replace granulated sugar in almost any recipe you have.  based on your ratio of water to dates, the sweetness can vary but overall using an equal amount of date paste for the sugar in a recipe works.  Remember date paste will make your cookies and cake a little softer and slightly less sweet.  If you are using date paste to replace maple syrup or honey, you might need to use slightly more date paste.
Remember, this stuff is good for sweet and savory dishes.  Many savory meals like BBQ, Thai curry, and Chinese dishes use some form of sugar to help balance the flavors so if you are doing a Whole30 or Clean-in-15, this is a compliant replacement! (Yay!)
You can use date paste to replace the sweetener in any of my recipes and will have wonderful results!!
Storing date paste
Store the date paste in an airtight container in the fridge for up to 3 – 4 weeks. I store mine in a glass container and use it when needed. If you store it in the freezer, it will keep well for up to a year!
Yield/Servings: About 1.5 Cups
Author: Riyana Rupani
Print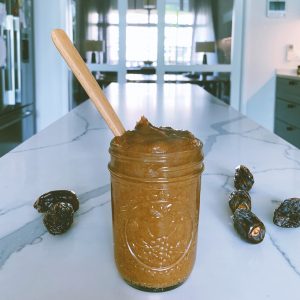 Date Paste
A delicious low GI sweetener you can use in just about any recipe to replace traditional sugar.
PREPARATION TIME: 1 HOUR
TOTAL TIME: 1 HOUR
INGREDIENTS
12-15 Medjool dates
enough hot water to cover them completely
INSTRUCTIONS
Place dates in a bowl and cover them completely with hot water. Soak the dates for 1-2 hours. If your dates are fresh and soft you might only need to soak them for 15-30 minutes.
Once dates are softened, place dates and a 3 Tbsp of the soaking water into a blender add water slowly to get the consistency you like. I usually add about 1/3 cup of water as I like my date paste thick but not too thick.
Process until very smooth. Remember the thinner the paste, the less sweet it is.
You can store the date paste in an airtight container in the fridge for up to 4 weeks or freeze for up to a year.
I store mine in a glass container and use it when needed.