RICH DENSE AND CHOCOLATEY!
We all need a good treat every once in a while and dark chocolate is therapeutic for me!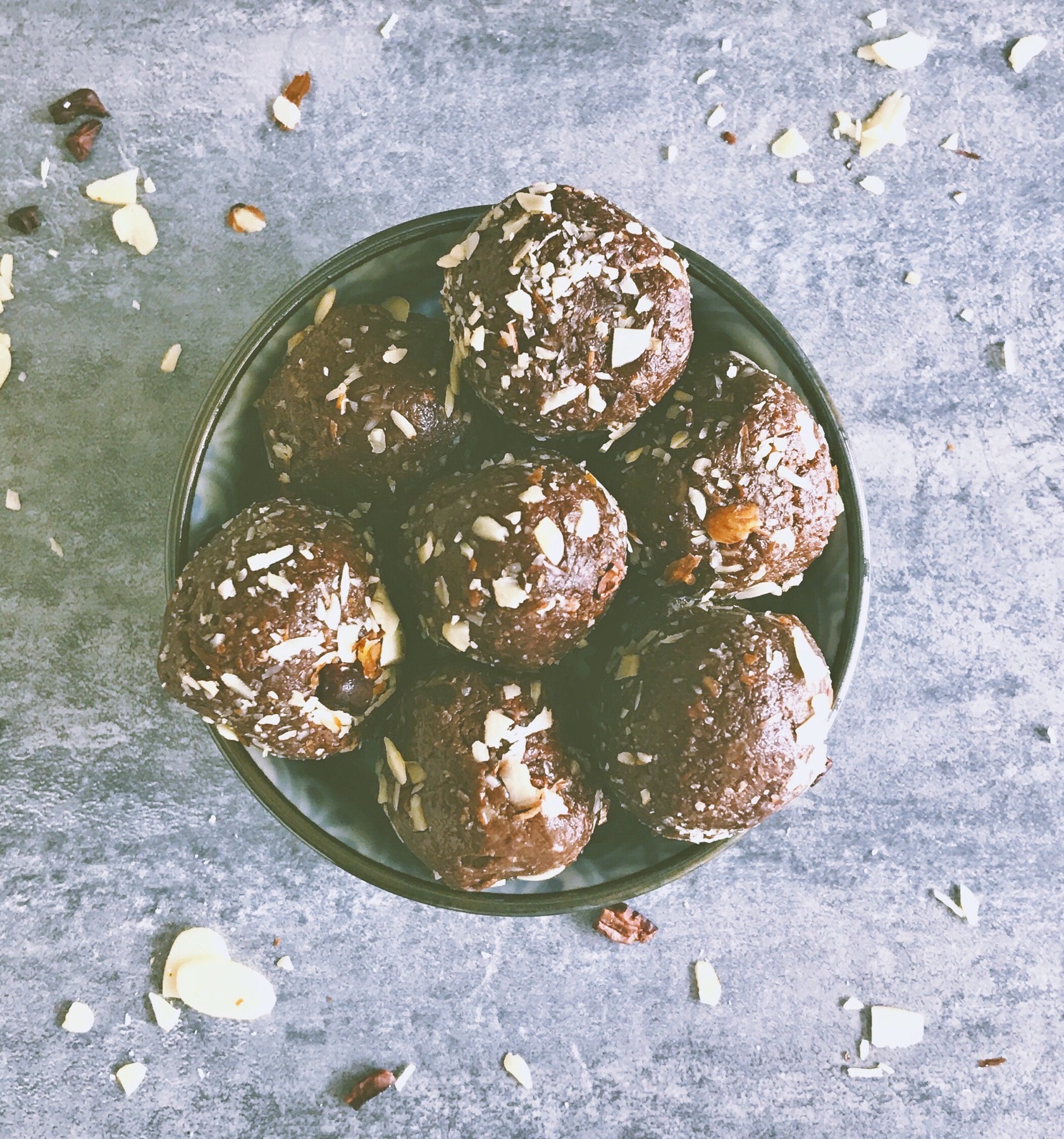 I made a batch of my chocolate truffle bliss balls and these beauties always hit the spot!  They freeze really well so you can always make a big batch and save them for later.
If you want to make these nut-free, simply use sunflower butter instead of a nut butter!
Top them up with anything you fancy!  I like hemp hearts, cacao powder, and a mixture of a little cinnamon and coconut sugar!
If you want to go a little extra, you can put something in the center too!  I love a toasted hazelnut which reminds me of a ferrero rocher  or a dried cherry, the sour and dark chocolate work so well together!
Yield/Servings: 12-16
Author: Riyana Rupani
Print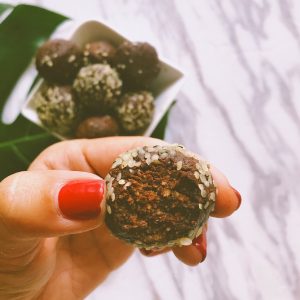 Chocolate Truffle Bliss Balls
The perfect chocolate bite
PREPARATION TIME: 25 MIN
TOTAL TIME: 25 MIN
INGREDIENTS
1 cup gluten-free oat flour – (I grind gluten-free oats in my bullet)
1/2 cup smooth nut butter of choice (use sunflower butter for nut-free)
5 Tbsp date paste or 4 Tbsp maple syrup
1 tsp vanilla extract
1/2 cup cacao powder
1/3 cup dark chocolate chips
Optional Toppings
Crushed nuts
Coconut
Hemp Hearts
Cacao Powder
melted chocolate
A mix of cinnamon & coconut sugar
Crushed Freeze-dried strawberries
INSTRUCTIONS
mix the nut butter and maple syrup together well. microwave or heat on the stove until melted together.
Add all ingredients to a food processor and blend. If too dry, add a tbsp at a time of your milk of choice till you get a good consistency to make the balls. It shouldn't be too soft, more on the firmer side.
Add chocolate chips and mix them in with your hands so they're evenly distributed.
Roll into balls and place on a lined tray.
Freeze for 15 minutes so that they harden, store in the fridge. Enjoy!
(Optional to roll into the topping of choice or add something special in the center before freezing like a hazelnut)