MOVE OVER RICE KRISPIE, WE GOT RICE CRISPY!
On the weekends, the kids and I like to make one treat we can enjoy during the week. Today we are making these super simple rice treats
These take 10 to 15 minutes to prepare and are a hit during snack time, picnics, playdates, and for lunch boxes.
Traditional Rice Krispie Treats are made with marshmallows that contain refined and processed sugar and Rice Krispie cereal which is processed rice plus sugar.
This version is a lot more friendly to your blood sugar levels, gut, and overall health.
I'm using natural puffed rice along with an unrefined sweetener and nut butter.  What you get is a balanced treat that won't have your kids bouncing off the wall!
Yield/Servings: 8
Author: Riyana Rupani
Print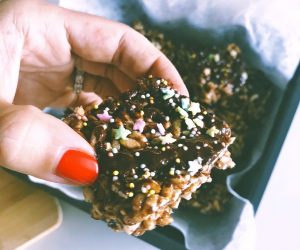 Rice Crispy Treat
A simple no bake treat made with natural puffed rice
PREPARATION TIME: 10 MIN
COOKING TIME: 5 MIN
TOTAL TIME: 15 MIN
INGREDIENTS
1/3 cup date syrup or maple syrup
1/3 cup almond butter or peanut butter (or tahini for a more adult version)
3 cups puffed rice
3 tbsp dark chocolate chips
1 tbsp coconut oil
Natural color sprinkles (I use Hopper brand @hopper_hq_aus)
INSTRUCTIONS
Toast your rice - unlike rice crispy cereal, natural puffed rice isn't going to be super crunchy. Heat up a dry pan and toast till crispy or you can do this in the oven. Heat the oven to 190C/ 375F and pop in your puffed rice for about 5 min.
Transfer your puffed rice to a large bowl. Combine the nut butter and sweetener in a saucepan and heat on low till well combined.
Pour the mixture on top of rice puffs and mix well.
Put the mixture into an 8x8 inch baking pan lined with baking paper.
In the same saucepan, you used before, gently melt together the coconut oil and chocolate chips. drizzle over rice treat. Sprinkle with sprinkles (optional) and refrigerate for at least 30 min.
Store in an airtight container.