COZY, COMFORTING, AND FULL OF HEALING BENEFITS.
Turmeric is a healing spice with a bright yellow color.  you can enjoy all its goodness in this delicious warm Latte
DO YOU KNOW ALL THE HEALING PROPERTIES OF TURMERIC?
Turmeric is a spice that has been used in Indian cookies forever. Being Indian, it's a staple in our house but it's a new spice for many. So what's all the recent fuss over this spice anyway?
Here are my top 2 healing benefits.
It is a natural anti-inflammatory – in our house when someone is unwell we make a turmeric shot with turmeric, black pepper, ginger juice, apple cider vinegar, and honey! The anti-inflammatory effect can be so strong that it can replace anti-inflammatory drugs without the nasty side effects. You can find turmeric now in capsule form for this use. Today, unfortunately, most of us are dealing with some level of chronic inflammation so adding a bioactive ingredient to combat this at the cellular level is always welcome.

It's a powerful antioxidant – Curcumin is the main active ingredient in turmeric which is what has the powerful anti-inflammatory effect as well as the strong antioxidant properties. Not only does it have it's own antioxidant properties, but it also boosts your body's antioxidant enzymes! Antioxidants can protect us from free radicals, so the more the better.
I LOVE MY GOLDEN LATTES WHEN IT'S COLD OR RAINY OUTSIDE, AND IT'S PERFECT WHEN I FEEL LIKE I'M COMING DOWN WITH SOMETHING.
IT'S A WARM AND COZY PICK-ME-UP WITH ALL THE HEALING BENEFITS AND NON OF THE CAFFEINE.
If I'm in a pinch for time (or being lazy with the whole pot thing), I like using my Aeroccino to speed things up.
I currently have this one but looking to upgrade to this one soon!
If I am looking to increase the satiation factor of my latte, I like adding 1 tbsp of coconut oil! It really thickens it up and makes it nice and filling.
Below I have listed out the individual spices to use but my go-to is combining tsp of turmeric with 1 tsp of my chai masala.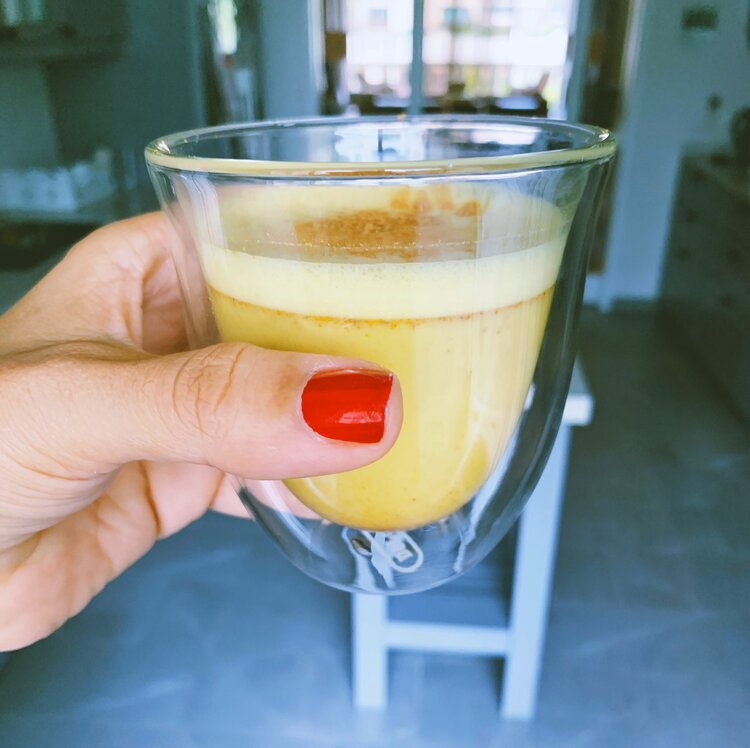 Yield/Servings: 1
Author: Riyana Rupani
Print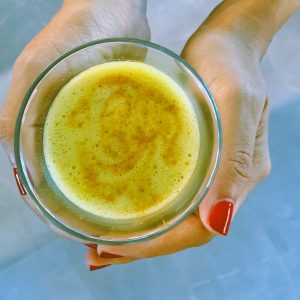 Golden Latte
Enjoy all the healing benefits of turmeric in this delicious Latte
PREPARATION TIME: 1 MIN
COOKING TIME: 5 MIN
TOTAL TIME: 6 MIN
INGREDIENTS
1/2 cup almond milk
1/2 cup Coconut Milk
1 tsp Organic Turmeric
1 tsp Chai Masala or the following spices
1/4 tsp Ground Black Pepper
1/4 tsp Ground Ginger
1/4 tsp Ground Ceylon 
1/4 tsp Ground Cardamom 
1/2 - 1 tsp Raw Honey (replace with maple syrup for vegan, omit for Whole30 & Clean-in-15)
INSTRUCTIONS
In a small saucepan, add all your ingredients
Whisk to combine and warm over a medium flame. You want this to be hot but not boiling. Remember to whisk frequently. (you can cheat by using a handheld milk frother like this one).
Turn off the heat and give it a little taste. You can always add more of any ingredient to your liking
Serve immediately, and garnish with a sprinkle of turmeric & cinnamon
If I am in a rush or being too lazy to use a pot, I put all the ingredients except honey into my Aeroccino. I add the sweetener once in my cup and give it a little stir.