SUGAR & SPICE & EVERYTHING NICE! THE PERFECT WAY TO DESCRIBE THESE COOKIES!
If you love the flavors of Christmas as much as I do, then these cookies are for you!
I love the Christmas season and along with it, all the Christmas treats! One of my favorites is the classic flavors of gingerbread cookies!
These Paleo and Vegan version is a great make at home replacement for all the nice and minimal naughty!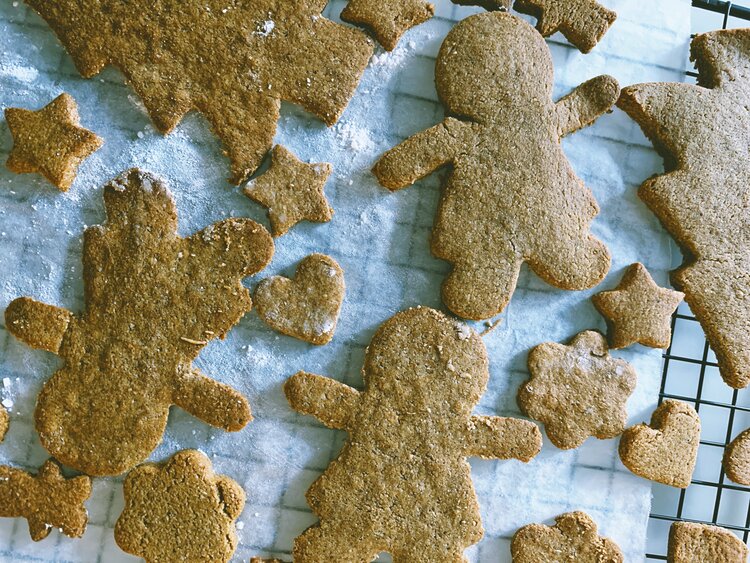 The key to these cookies is to ensure you set the dough in the fridge or freezer, and don't roll it out too thin.
What gives Gingerbread cookies their special taste? Sure all the spices, but using a bit of molasses gives them a distinct flavor and that traditional deep brown color.
For toppings, I went the easy route. I used Simple Mills Frosting along with some natural food coloring and sprinkles. Alternatively, a drizzle of coconut butter and a sprinkle of raw sugar looks beautiful and rustic and is a great choice for adults!
I hope you and your little ones enjoy these as much as we did. My kids enjoyed the leftover dough as much as the baked cookies, I was lucky I was able to get some in the oven!
Yield/Servings:
Author: Riyana Rupani
Print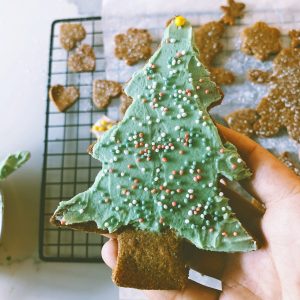 Paleo & Vegan Gingerbread Cookies
All about Sugar and Spice and Everything Nice
PREPARATION TIME: 10 MIN
COOKING TIME: 10 MIN
TOTAL TIME: 20 MIN
INGREDIENTS
1.5 cups Almond Flour
1/4 cup Arrowroot Flour
2 tsp Ground Ginger
1 tsp Ground Cinnamon
1/4 tsp All Spice
1/4 tsp Baking Soda
pinch of Salt
2 tbsp Coconut Oil
1/4 cup Maple Syrup
2 tbsp Molasses
extra Arrowroot for dusting & rolling 
If you want round cookies, just roll the dough into small balls, and then flatten on the baking pan. They taste great sprinkled with some coconut sugar and cinnamon.
INSTRUCTIONS
Preheat the oven to 180℃/350℉ and line a baking pan with baking paper.
In a large bowl combine the almond flour, arrowroot, ginger, cinnamon, allspice, salt, and baking soda and stir.
Add in the coconut oil, maple syrup, and molasses and stir until a sticky dough is formed. I like to finish it off using my hands to ensure everything is nicely incorporated.
To make cut-out cookies, place the dough in the freezer for about 30 minutes to firm up. Alternatively, you could keep in the fridge for 2 hours or overnight.
Place the dough in the middle of a large piece of baking paper and sprinkle it with a little arrowroot flour to help prevent sticking. Use a rolling pin to roll the dough into a flat sheet, about 1/4-inch thick. You want to ensure you don't go thinner than this otherwise your dough will fall apart when trying to transfer to the baking pan.
Use your preferred shapes to create your cookies and remove the excess dough. Re-roll the dough to create more shapes.
If you want round cookies, just roll the dough into small balls, and then flatten on the baking pan. They taste great sprinkled with some coconut sugar and cinnamon.
Bake the cookies for about 10 minutes for palm-sized cookies, shorter for smaller cookies. These will be chewy but firm.
Allow the cookies to cool completely before icing (they will firm up as they cool).
For the frosting, I opted for Simple Mills Vanilla Frosting but they are also delicious drizzled with coconut butter and sprinkled with raw sugar