THE COMBINATION OF MALA AND BURRATA IS UNEXPECTED, BRIGHT, AND FRESH!
Sharing with you one of my favorite apps I've been making on repeat. 
It's punchy in flavor, looks beautiful, and is super easy to put together!
 I love creating fusion dishes that bring together different tastes and textures.  This pairing isn't your typical combination but the flavors work magically together. ⁠
⁠Cool creamy cheese, sweet cherry tomatoes, topped with fiery mala.
Scoop all this goodness up with Ri's grain-free crackers for the perfect low-carb appetizer that will keep your blood sugar happy and balanced!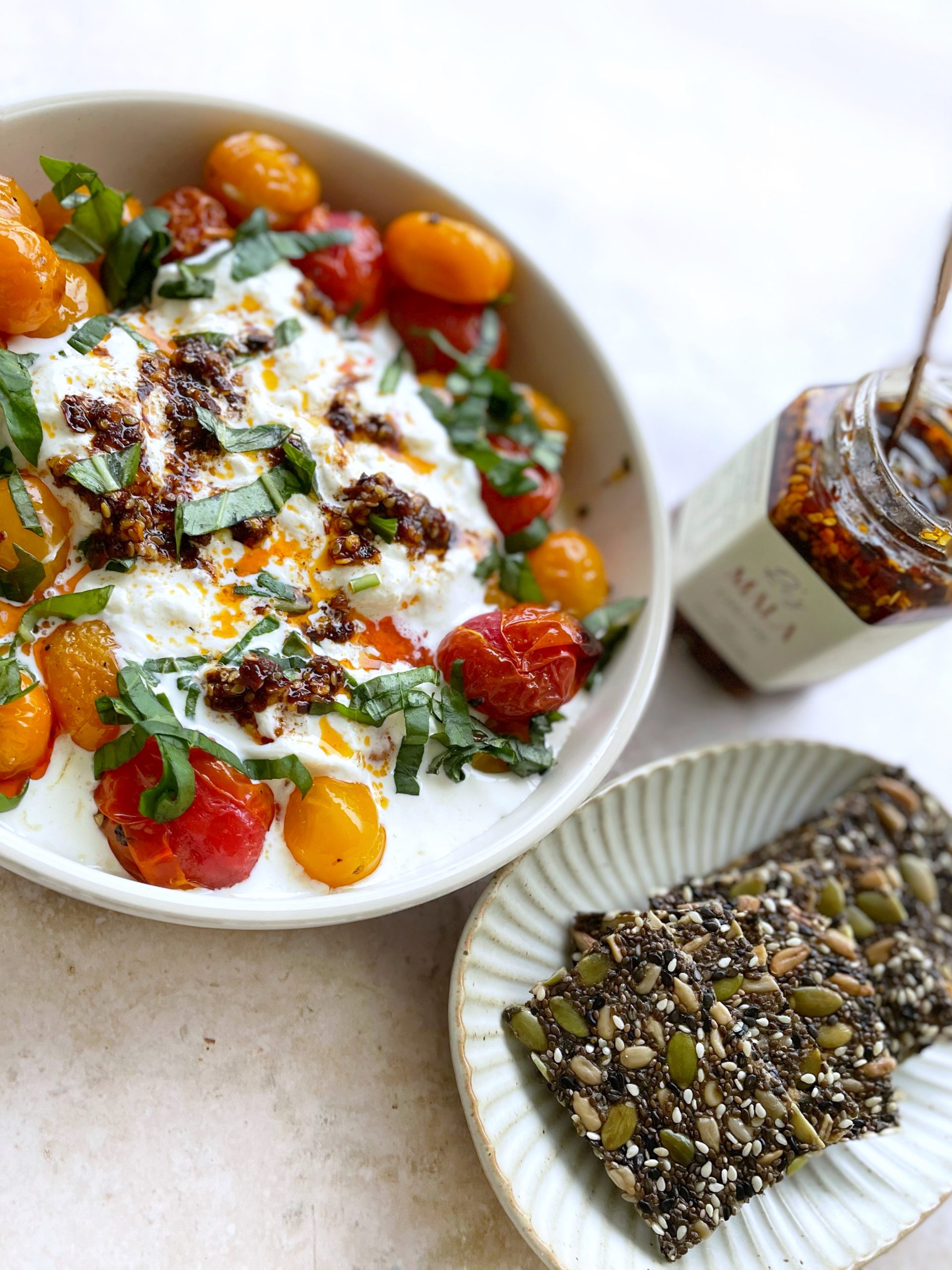 Yield/Servings: 4
Author: Riyana Rupani
Print
Mala Burrata
An unexpected combination, perfect for entertaining
PREPARATION TIME: 10 MIN
COOKING TIME: 15 MIN
TOTAL TIME: 25 MIN
INGREDIENTS
250-300g cherry tomato
150 - 200g fresh burrata or stracciatella
fresh basil
2 to 3 tsp Ri's Mala chili oil
flaked sea salt & pepper to taste
INSTRUCTIONS
In the oven, air fryer, or on a frying pan, cook your cherry tomatoes till blistered.  I generally do this in the oven.  toss the cherry tomato with a little olive oil, season with salt & pepper, and pop into a preheated 190C / 375F oven for 10 to 15 minutes.
Once the cherry tomatoes are blistered, allow them to cool for 10 to 15 minutes.  
Plate your dish by putting your burrata or stracciatella in the center and adding the blistered cherry tomatoes around it.
Drizzly 2 to 3 tsp of mala onto the cheese.
Garnish with fresh chopped basil, and flaked sea salt.
Scoop in with Ri's grain-free crackers.