All the flavors and freshness of summer come together in this easy salad!
Whether you are BBQing, picnicking, or doing a casual dinner with friends, include this salad in your meal!
It's beautiful, elegant, and screams summer with all the fresh flavors!
I personally love pairing creamy mild cheeses like burrata with fruit.  The natural sweetness of the cheese is enhanced naturally this way.  I've used berries here but another favorite pairing is peaches!!
Top everything off with a drizzle of balsamic reduction to help bring everything together!
Less than 10 minutes to prep this beauty, and your guests will be wowed!
Yield/Servings: 4
Author: Riyana Rupani
Print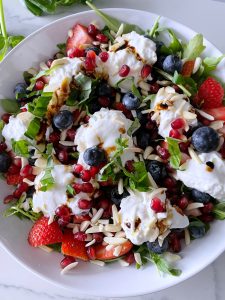 Berries & Burrata Summer Salad
A delicious sweet and savory salad perfect for the summer
PREPARATION TIME: 10 MIN
TOTAL TIME: 10 MIN
INGREDIENTS
4 cups arugula
1/2 cup fresh strawberries, washed and cut
1/2 cup fresh blueberries, washed
1/4 cup pomegranate seeds (optional)
250g fresh burrata or mozzarella
1/4 cup nuts of choice
extra virgin olive oil
flaked sea salt
balsamic vinegar reduction
Fresh basil
INSTRUCTIONS
Drizzle some balsamic vinegar reduction into your serving bowl and place your arugula on top. This helps get the dressing well incorporated once you toss it later.
drizzle with good quality extra virgin olive oil and give a good sprinkle of flaked sea salt.
Sprinkle your berries and pomegranate seeds.
Sprinkle your nuts next. (I used almond slivers but anything works!)
Add your burrata or fresh mozzarella in about 2-inch chunks.
drizzle with more balsamic reduction and a little more olive oil.
top with fresh cut basil ribbons