DO YOU LOVE GRANOLA? ME TOO!
I know we can all appreciate a quick breakfast or snack, and this classic granola is perfect!
After I became a Mom I appreciated a quick breakfast I could give my kids even more!  For most, cereal is the easy go-to but those boxes tend to be full of tons of sugar and artificial ingredients… not something I want to be giving my kids (or me)!
Buying artisanal granolas is a nice idea, but that can get expensive fast!
This granola makes a wonderful snack or breakfast.  It also stores beautifully.  Make a double batch for home or spread the love and share as a nice homemade gift!
My recipe is low in sugar and big on fiber.  And while the recipe is filled with nothing but good stuff, too much of anything is never a good thing!
The recipe makes about 5 cups and I recommend a single serving to be no more than 1/2 a cup.  Pair it with greek yogurt, or coconut yogurt to complete the meal and get in those healthy fats.
Looking for other granola or easy make-ahead breakfast options??  I got you covered!  Check out these.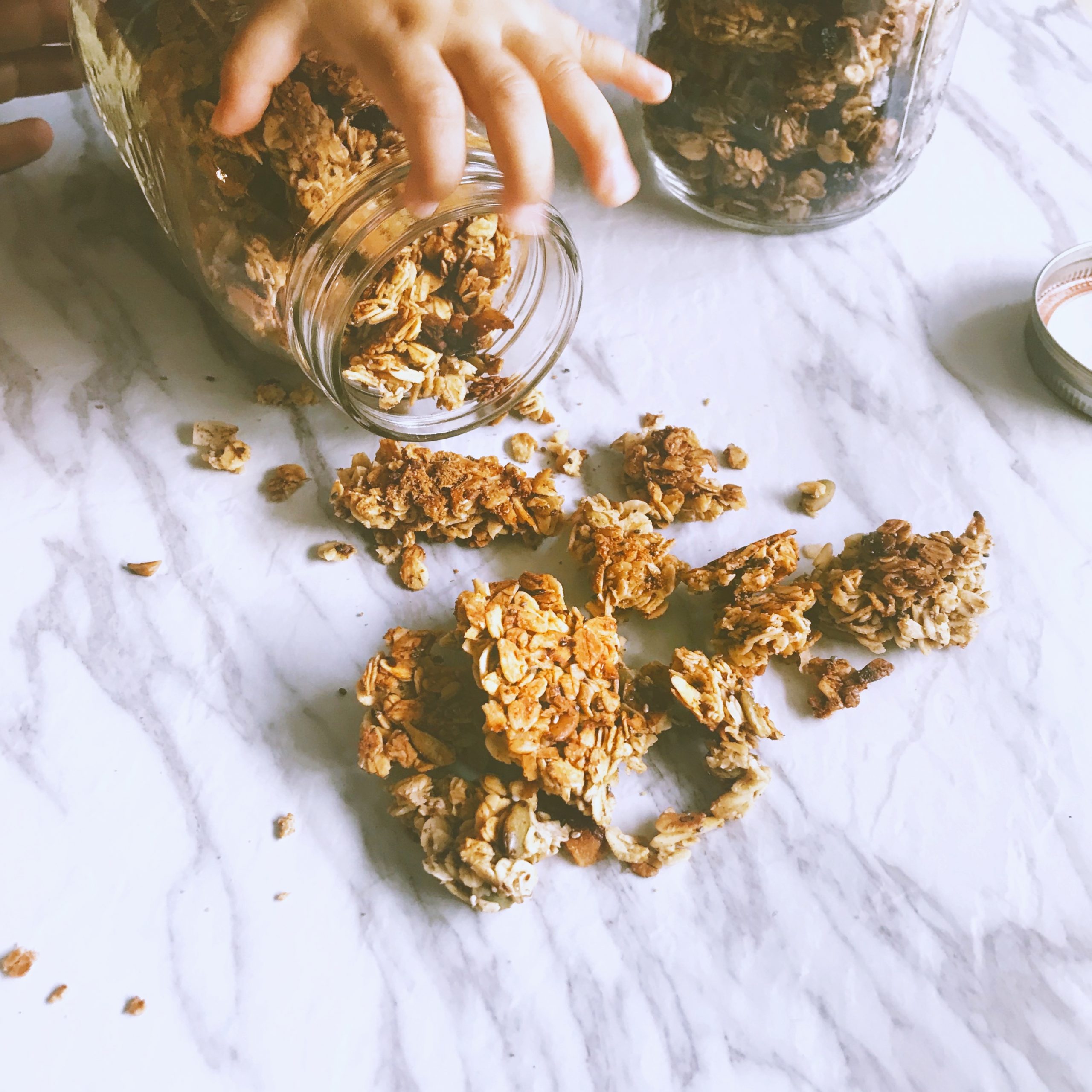 Yield/Servings: 6 Cups
Author: Riyana Rupani
Print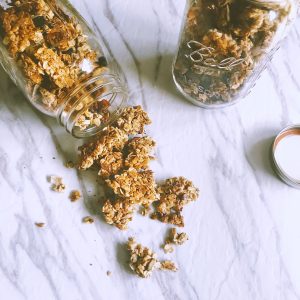 Gluten-Free Classic Granola
The perfect classic granola
PREPARATION TIME: 10 MIN
COOKING TIME: 15 MIN
TOTAL TIME: 25 MIN
INGREDIENTS
3 cups gluten-free rolled oats⠀
2 cup nuts/seeds mixed. (Whatever you have works)
1/2 cup chopped dates or dried fruit⠀
2 tablespoons flaxseed meal⠀
1 cinnamon
1/2 tsp of salt⠀
1/4 cup coconut oil⠀
6 Tbsp date paste, or maple syrup, or another natural sweetener
1 tsp vanilla extract⠀
1 large egg white, whisked well until frothy
INSTRUCTIONS
Preheat oven to 350 °F / 180 °C
Line baking sheet with parchment paper.
In a large bowl combine all dry ingredients.
In a small saucepan heat the oil, sweetener, and vanilla extract. Once the mixture starts to bubble, take off heat and pour over dry mix. Combine well.
In a small bowl, whisk the egg white until frothy. Add to the granola mixture and mix well.
Pour onto baking sheet and bake, until golden brown, about 10-15 minutes, and rotate the pan once at the halfway point. Watch carefully for burning (mine was done in 12 minutes).
Let cool completely! If you don't, you won't get those beautiful clusters.
Break apart and store in an air-tight container for up to 4 weeks.