A THAI INSPIRED SALAD THAT IS SIMPLE TO PREPARE AND FULL OF THE THAI FLAVOR YOU LOVE
A perfect addition to your Thai meal!
This salad looks and tastes exotic & complex but requires minimal effort and comes together easily!
I know wing beans aren't the most common ingredient out there, so if you can't get your hands on them, this dish tastes equally good and authentic using green beans.
This salad can be served as a side dish or as a meal on its own.  If you are having it as a meal you want to make sure you add a good protein source.  Today I used some simply cooked prawns but shredded chicken, pan-fried tempeh or some simple boiled egg all work really well!
If you are serving it as a side dish, pair it with one of these flavorful Thai mains!
For the dressing, I've used my Ri's red chili sauce.  The flavors work really well and the kefir in the sauces is just perfect with the other Thai flavors.  If you don't have my chili sauce on hand, your basic Asian chili sauce can be used instead.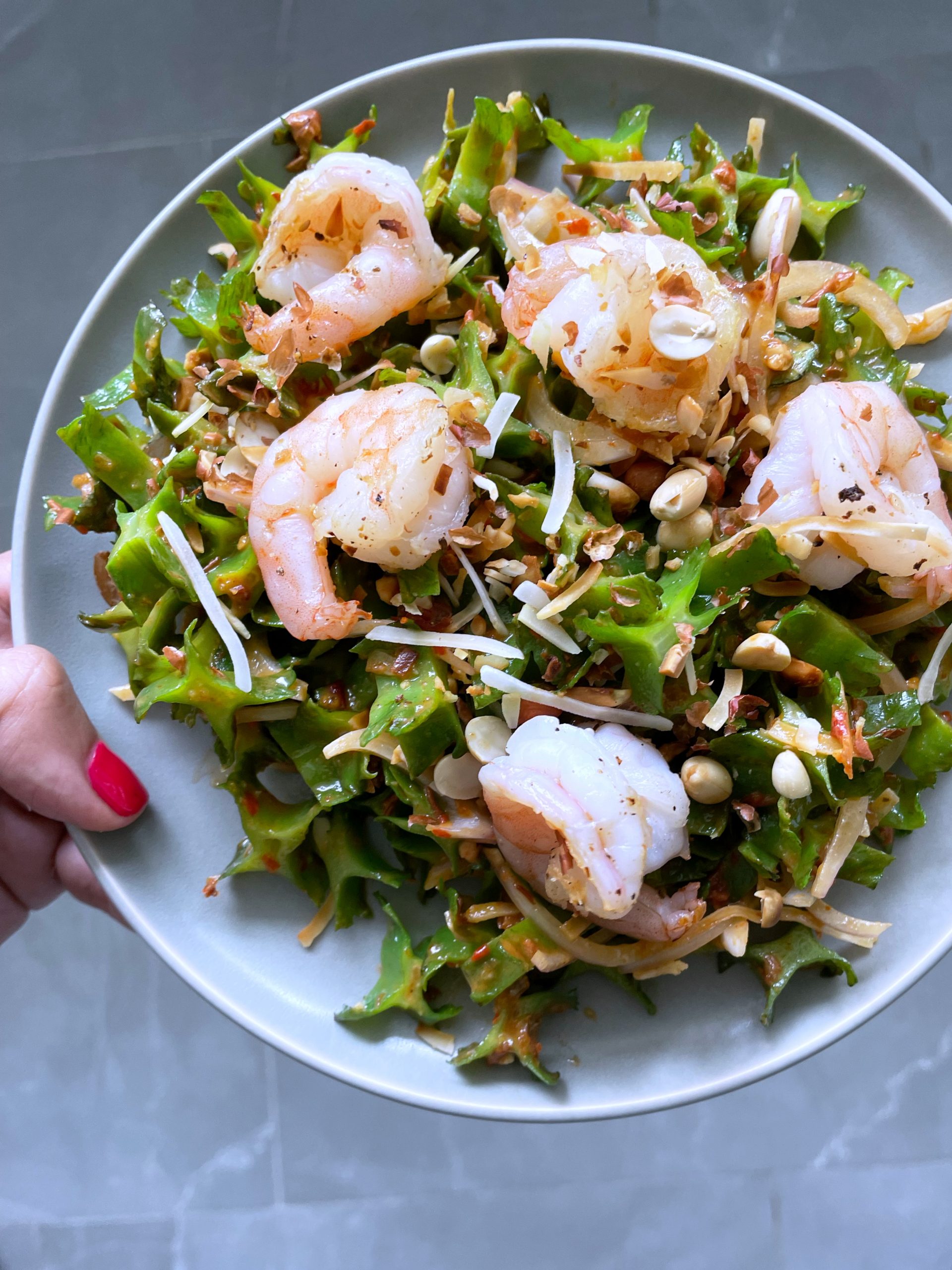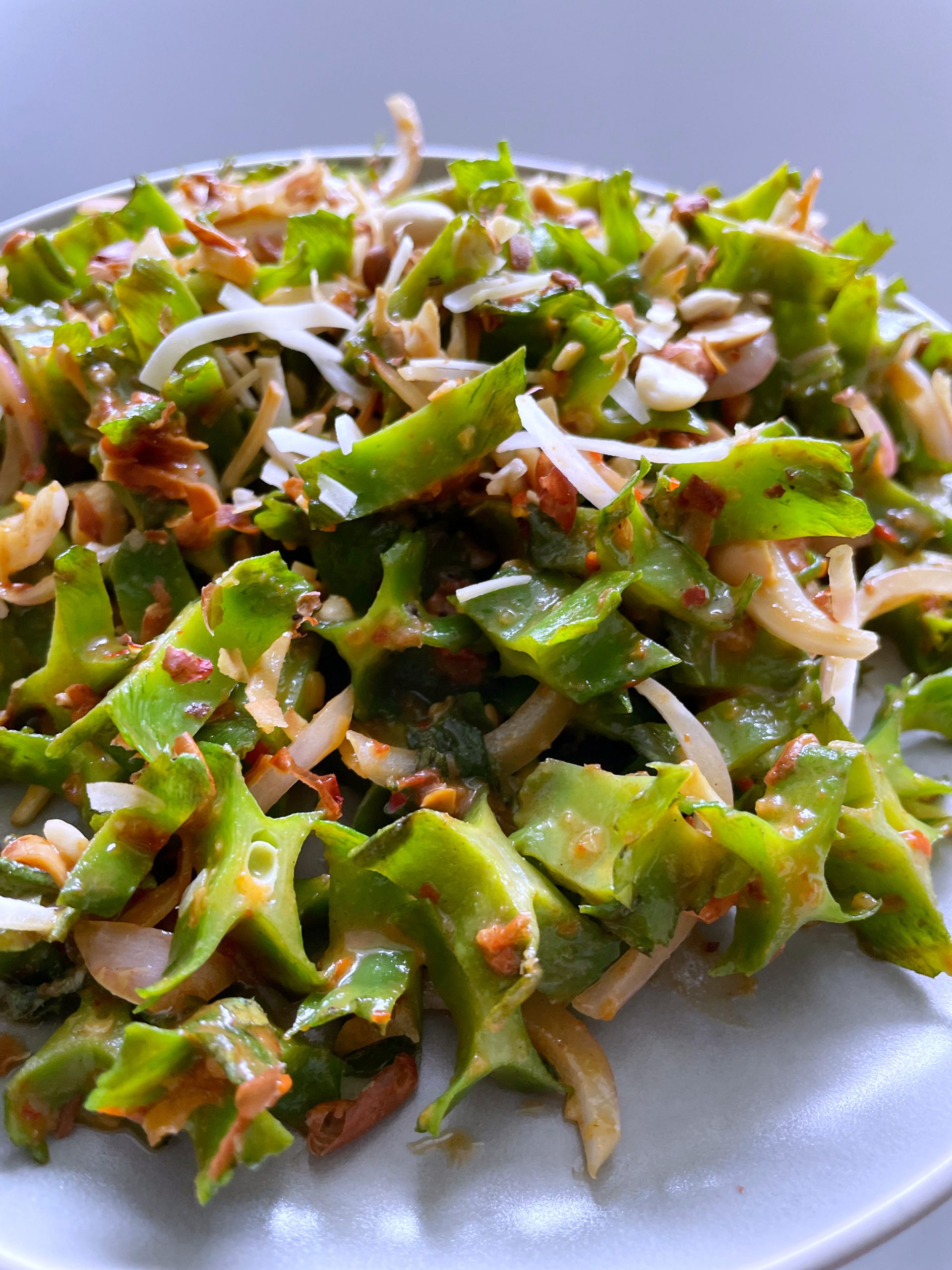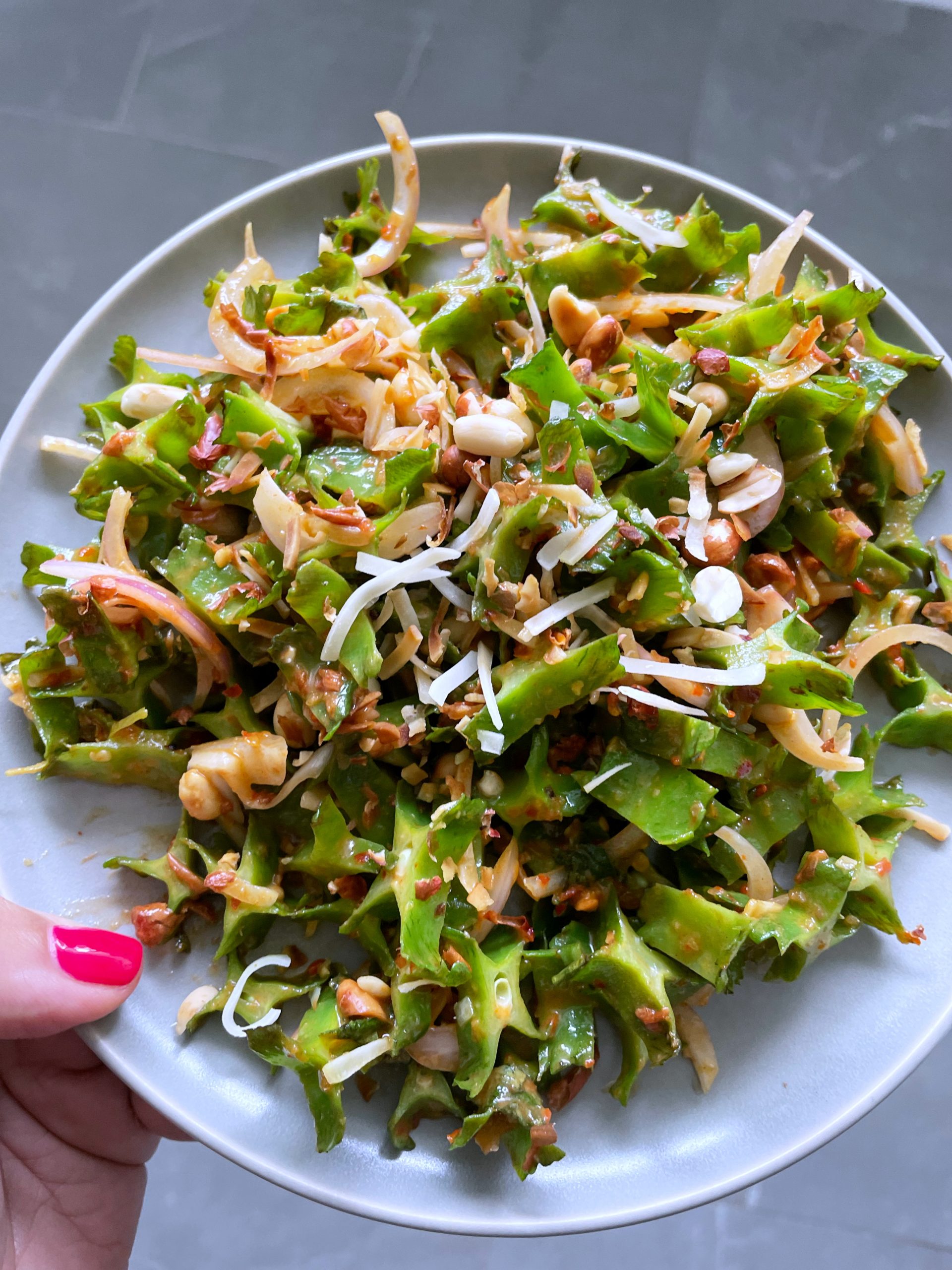 Yield/Servings: 2
Author: Riyana Rupani
Print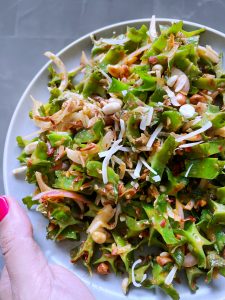 Thai Wing Bean / Green Bean Salad
A delicious salad made with tender wingbeans.
PREPARATION TIME: 10 MIN
COOKING TIME: 5 MIN
TOTAL TIME: 15 MIN
INGREDIENTS
Salad
200g wing beans or green beans
3 Tbsp shredded toasted coconut,
3 Tbsp roasted peanuts, crushed (for Cleanin15 Omnivore & Whole30 use toasted almonds or cashews)
1 small red onion, thinly sliced
⅓ cup mint leaves, chopped
Protein of choice - poached or grilled shrimp, shredded chicken, tempeh, or boiled egg all work well!
Dressing
2 Tbsp lime juice
1 Tbsp tamarind pulp
1.5 Tbsp fish sauce (omit and replace with 1/4 tsp salt for vegetarian)
2 Tbsp Ri's red chili sauce or Thai chili paste
3 Tbsp coconut milk
1 clove garlic, roughly chopped
1 Thai chili, chopped (optional)
2 Medjool dates, pitted and roughly chopped
INSTRUCTIONS
Blanch your beans - Bring a large pot of water to a boil and add 2 tsp of salt (the water should taste seasoned). Add the wing beans and cook for 1 minute.
Remove the beans from the water, and immediately put them into a bowl of ice water to stop the cooking process.
Drain well and slice beans into ¼-inch slices crosswise. If using green beans, cut them into 1-inch pieces.
Toast your coconut - Dry roast your shredded coconut till it turns a golden brown color. This should take 1-2 minutes
Crush peanuts in a mortar and pestle or roughly chop by hand.
Add all your dressing ingredients to a mini food processor or blender, and blend till smooth. Taste and adjust according to your preference.
Assembly: In a bowl, pour your dressing in first. Add wing beans, toasted coconut, peanuts, and mint. Toss to mix well. Add your protein and give another gentle toss. Garnish with extra peanuts, coconut, and mint.