BECAUSE EVERY MEAL NEEDS A GOOD SALAD.
Yes, salad can be a meal, and this salad is a perfect one!
I'm known to have a BAS (Big Ass Salad 😬) as a meal pretty often, and while I'm known to just throw together whatever is in the fridge, sometimes a well-constructed salad is worth the effort
Most think of a salad as a starter or a side, but this Mandarin salad can definitely hold its own! It's got zingy ginger, sweet oranges, and crunchy almonds and they all work blissfully together.
Never forget your protein when creating your salad meal.  I've done this with chicken, tempeh, but I am sure this would work wonderfully with prawns or seared tuna as well.
The best part about this salad is that it won't go soft on you, and leftovers the next day taste great!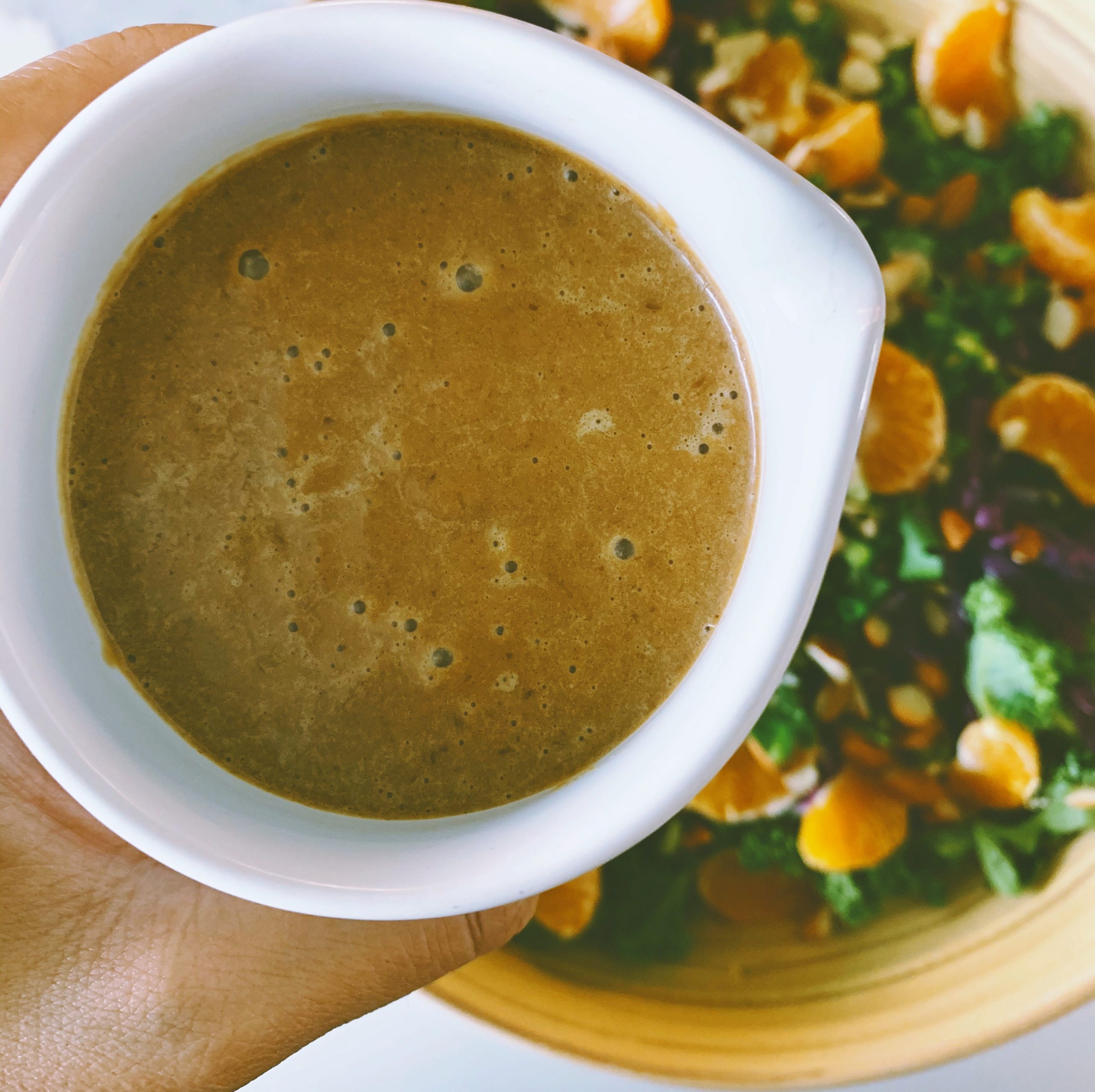 Yield/Servings: 4
Author: Riyana Rupani
Print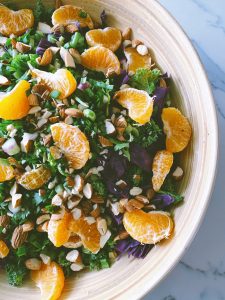 Mandarin Salad
A delicious Asian inspired hearty salad
PREPARATION TIME: 20 MIN
COOKING TIME: 10 MIN
TOTAL TIME: 30 MIN
INGREDIENTS
Dressing
1/2 small onion, roughly chopped
1/2 inch ginger, peeled and roughly
2 cloves garlic, roughly chopped
2 Medjool dates pitted and softened if necessary by soaking in very hot water for 5 minutes
3 tbsp coconut aminos
2 tbsp sesame oil
2 tbsp rice vinegar or apple cider vinegar
Salad
4 cups mixed Purple & white cabbage shredded (time saver - buy pre-shredded coleslaw mix!)
1 bunch Scallions green and white parts, thinly sliced
3/4 cup cashews or almonds, chopped
1/4 cup fresh cilantro chopped
1/2 cup Mandarin oranges slices
Protein Choice
2 Tbsp avocado oil, or coconut oil
500 grams chicken thigh or breast or Tempeh (cut tempeh into 1 inch squares)
3/4 tsp onion powder
3/4 tsp garlic powder
salt and black pepper
INSTRUCTIONS
Dressing - Place all ingredients in a small blender (I used a NutriBullet) and blend until smooth and creamy. If the mixture is extremely thick, you can add a tiny bit of water until it reaches desired thickness. Cover the dressing and place it in the refrigerator while you prepare the salad.
In a large serving bowl, combine the cabbage, sliced scallions, nuts, cilantro, and mandarin oranges and set aside
Season your chicken or tempeh with the spices.
Heat a large skillet over medium-high heat and add the oil.
Add your seasoned chicken or tempeh to the skillet and cook 5-7 minutes on each side to get a nice golden-brown crust. Make sure it is cooked through.
Remove the chicken or tempeh. If using chicken, let it cool for 1-2 minutes, slice it or cut into bite size pieces.
Arrange your protein over the salad, then toss with as much dressing as you like.