JUICY PIECES OF CHICKEN IN A DREAMY SPINACH CURRY
Juicy tender pieces of chicken drenched in a spiced spinach curry.  
This is hands down one of my favorite Indian dishes.  
I love making healthier versions of my favorite dishes and this one, even without all the usual heavy cream is deliciously lush and full of flavor.
For vegetarians, you can swap the chicken for tofu, or paneer.
Scoop up this delicious gravy with my grain-free low-carb flat bread and enjoy every bite!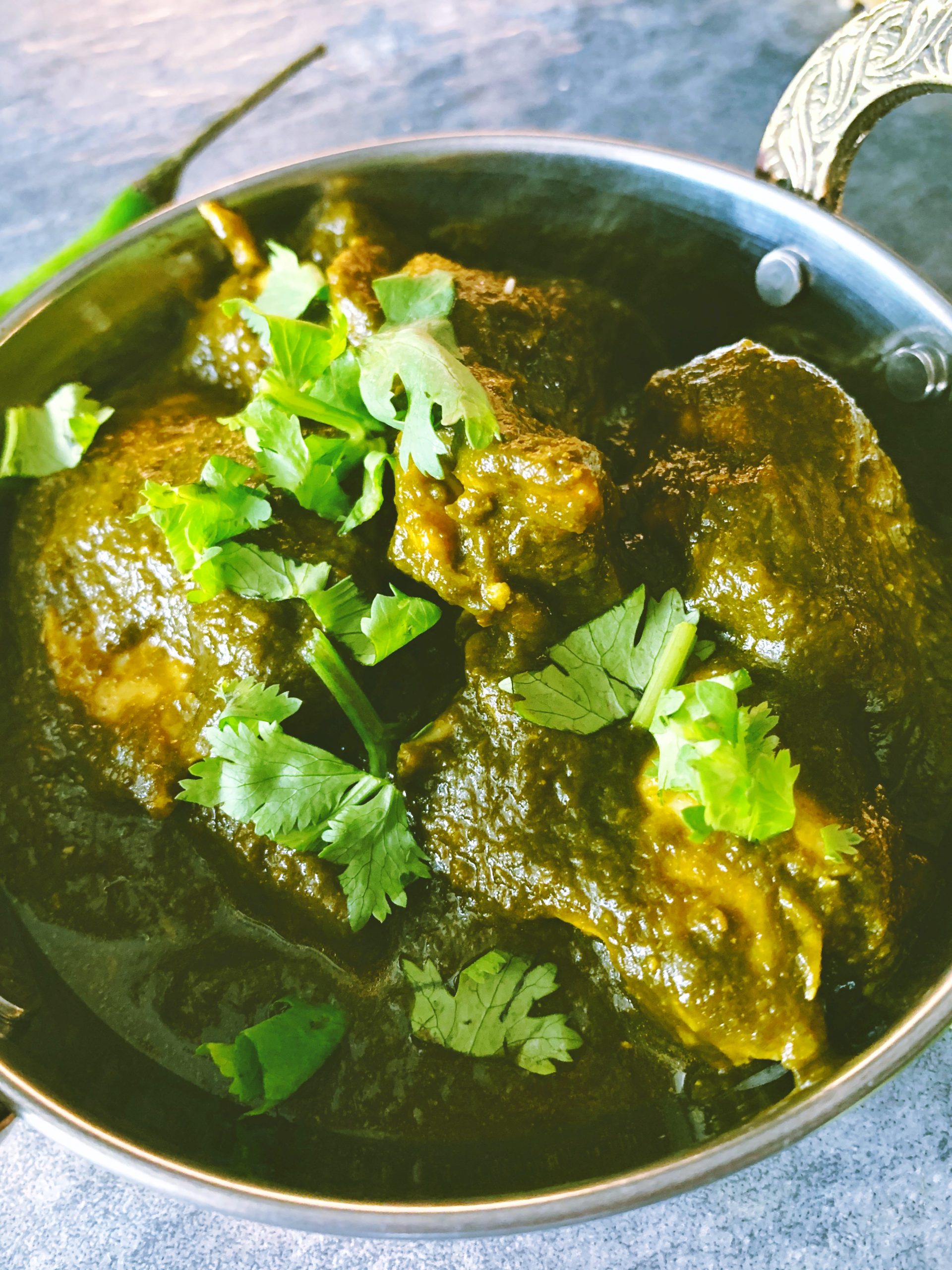 Yield/Servings: 4
Author: Riyana Rupani
Print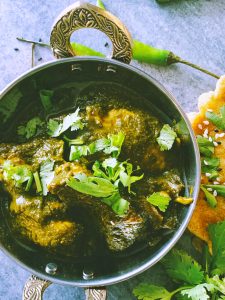 Chicken Saagwala
delicious Chicken served in a smooth spinach curry
PREPARATION TIME: 10 MIN
COOKING TIME: 25 MIN
TOTAL TIME: 35 MIN
INGREDIENTS
3 Tbsp ghee
2 onions, sliced
1 Tbsp ground cumin
2 tsp kashmiri chilli powder or paprika
1/4 tsp ground cloves
1/2 tsp ground turmeric ½ teaspoon
3 garlic cloves, minced
2-inch piece ginger, grated
300 grams spinach leaves, chopped
1-2 green chilli, chopped
1 400g can crushed tomatoes
800 grams boneless chicken thighs, cut into chunks
juice of 1/2 a lemon
INSTRUCTIONS
Heat 2 Tbsp of ghee in a deep frying pan, fry onions until golden, about 5 minutes. Add spices, garlic and ginger and fry another 2-3 minutes.
If you are using fresh spinach, wilt it by blanching it in boiling water with a pinch of baking soda. Squeeze out excess water and puree the spinach with the green chilli, tomatoes, and cooked onions and spices.
Season the chicken with salt. Heat a 1 Tbsp more oil in the same pan used for the onions and fry chicken pieces until lightly browned.
Add the spinach puree to the chicken and simmer on medium heat until chicken is cooked through, about 15-20 minutes. Season with lemon juice and salt to taste.