YOUR KIDS WILL NEVER KNOW!
Today sharing with you one of my kid's favorite recipes, Chocolate Avocado Mousse!
We are using raw cacao and creamy delicious avocados here.
If your kids aren't a fan of eating avocados, this is a wonderful way to sneak some of those brain-boosting fats into their diet along with all the powers of raw cacao!
2 rules:
1. Always use natural sweeteners like date paste, maple syrup, raw honey, yacon, coconut sugar, etc. your body knows how to process these and these sweeteners have a mineral and enzyme profile which your body benefits from
2. Always pair your sweets with fat or protein or both to increase satiety and to slow down the blood sugar hit.
This mousse is creamy, smooth, and totally hits the spot. there is just a small pinch of cayenne in this recipe that compliments the chocolate but you can omit it if you like.⠀
This lovely recipe comes together in less than 5 minutes, and it's a great way to get your kids involved in the kitchen.
Enjoy with a sprinkle of berries, nuts, seeds, or topping of choice!
Pro tip – I use this as a healthy chocolate frosting as well!  Try it on top of my simple vanilla blender muffins!
Yield/Servings: 4
Author: Riyana Rupani
Print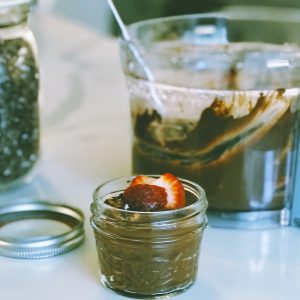 Avocado Chocolate Mouse
Dairy-free, egg-free, creamy chocolate mousse!
PREPARATION TIME: 5 MIN
INACTIVE TIME: 30 MIN
TOTAL TIME: 35 MIN
INGREDIENTS
2 ripe avocados
1/2 cup cacao powder
1/3 cup date syrup or maple syrup (can reduce if desired or replace with natural monk fruit if you are low carb)
1/2 cup full fat coconut milk
2 tsp vanilla
1 tsp cinnamon
1/4 tsp cayenne
INSTRUCTIONS
Throw everything in a food processor or blender and whizz till smooth. Chill for 30 min to 1 hour.