NEED A SIMPLE WEEKNIGHT DINNER? MY SIMPLE CHICKEN CURRY IS WHAT YOU NEED!
This Indian-style chicken curry is big on flavor without being over complicated. It is a fuss-free dish sure to be loved by the whole family!
There are hundreds of chicken curry recipes out there and for the most part thy take quite a while to prepare and use a ton of spices and ingredients.  I love those types of curry when time permits, but for an easy weeknight meal, This dish never fails!
I wouldn't technically call this "chicken curry in a hurry", but excluding the marination process, this does cook up pretty fast!
I try to marinate my chicken in the morning so that dinner whips up in no time at all!
Serve this up over your favorite cauliflower rice, steamed rice, or alongside this delicious paleo paratha.
Got leftovers?  The flavors will be even better the next day!  I love packing this for lunch over some sauteed kale or nestled in a paleo wrap for an easy lunch.
Would love to hear if you made this, so comment below!
Yield/Servings: 4
Author: Riyana Rupani
Print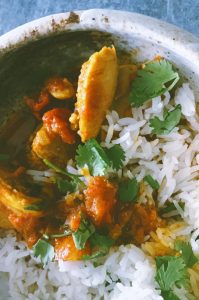 My Simple Chicken Curry
Rich, creamy, simple Indian Chicken Curry.
PREPARATION TIME: 10 MIN
COOKING TIME: 20 MIN
INACTIVE TIME: 1 HOUR
TOTAL TIME: 1 H & 30 M
INGREDIENTS
Marinade
800 grams boneless and skinless chicken thigh, cut into 2" pieces
4 tbsp fresh cilantro chopped
2 garlic cloves, minced
1-inch piece ginger, grated
1/2 lemon, juiced
2 tsp salt
1/2 tsp black pepper
2 tbsp coconut milk (reserve 2 from the can you will be using in the curry)
1 tsp coconut oil or ghee, or olive oil
Curry
1 tbsp coconut oil or ghee, or olive oil
1 cinnamon stick
2-3 black peppercorns
1 onion thinly sliced
4 cloves of garlic roughly chopped
1/3 tsp turmeric powder
1 tsp Kashmiri chili powder (or paprika)
1 400g/ 14 oz can of crushed or diced tomatoes
salt to taste
1 can coconut milk
Fresh cilantro for garnishing
INSTRUCTIONS
Stove Top
Marinade the chicken for at least 1 hour.
Heat coconut oil or ghee in a pan, add the marinated chicken and sauté for about 5-10 minutes or till it is cooked through, take the chicken out and keep it aside. If your chicken has given off a lot of liquid, you can discard this and use the same pan for cooking.
Add some more oil if needed, add the cinnamon stick and black peppercorns. Once this becomes fragrant, add onions, garlic, turmeric powder, and chili powder. Sauté for about 2 minutes or till the onions are soft and well coated.
Now add in the crushed tomatoes and salt and fry for 2-3 minutes.
Add the chicken, and sauté till the spices and tomatoes coat the chicken.
Now add the coconut milk, mix it well, and cover and let cook for about 10 minutes.
Garnish with fresh chopped cilantro
Instant Pot
Marinade the chicken for at least 1 hour.
Heat coconut oil or ghee in on the saute function. Add the cinnamon stick and black peppercorns. After they become aromatic (10-20 seconds) add onions, garlic, turmeric powder, and chili powder. Sauté until the onions soften, and are well coated. About 2 min.
Now add in the crushed tomatoes and salt and fry for 2-3 minutes. Add the chicken, and coconut milk, mix everything well. Close your lid and set the vent to sealing.
Cook on manual high pressure for 10 minutes.
Release the pressure manually.
Garnish with fresh chopped cilantro