IF YOU HAVEN'T GIVEN DAL A TRY, THIS ONE WILL HAVE YOU HOOKED!
"Suggesting that we shouldn't eat cooked legumes because raw legumes cause disease is like saying that we shouldn't eat cooked chicken because we can get Salmonella from eating raw chicken." – Chris Kresser⁠
The above quote basically sums up my thoughts on legumes! I'm a girl who suffers from gut issues and was told I shouldn't eat any form of bean, lentil, or legume because of the phytic acid and the impact it would have on my gut. But here is the thing, if you properly prepare your beans and cook them well, they become way less disruptive, if at all.
And for a desi girl who grew up eating dal, giving it up wasn't going to be easy. So instead I take the time to properly prepare my dals and I try to stick to the ones I know are going to be easier on my digestion. Check out my guide to lentils & legumes to learn more about how to make them work better for you!
I am super excited to share with you one of my all-time favorite recipes! ⁠ This one is made with red lentils which are easy on digestion, along with coconut milk, and spinach.⁠ ⁠ It's vegan, wholesome, a great source of plant-based protein, and just straight-up satisfying.
Insert Recipe below
Yield/Servings: 3-4
Author: Riyana Rupani
Print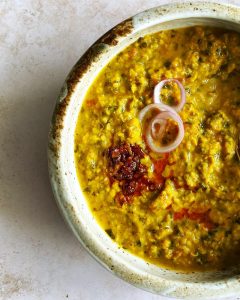 Coconut Masoor Dal (Red Lentils)
A delicious vegan lentil curry bursting with flavor
PREPARATION TIME: 1 H & 15 M
COOKING TIME: 30 MIN
TOTAL TIME: 1 H & 45 M
INGREDIENTS
2 Tbsp coconut oil
4 cloves garlic, sliced
3-inch piece ginger, sliced
1 yellow onion, diced
1/2 tsp turmeric
2 tsp cumin
1 tsp coriander powder
1/2 tsp cayenne pepper (or to taste)
salt & pepper to taste
1 can diced tomatoes (tomato sauce works too).
1 tsp tomato paste
 
1 cup red split lentils (masoor dal)
1 can coconut milk
2 cups vegetable broth
2-3 cups spinach, roughly chopped (you can use frozen as well)
1 tbsp lemon juice
freshly chopped coriander for garnish
INSTRUCTIONS
Rinse lentils and soak overnight if possible but for a minimum of 1 hour 
Heat your oil in a large pot. Add onions, ginger, garlic, and stir-fry until onions are slightly browned and translucent.
Add all your dry spices including salt & pepper. You want your spices (masala) to roast a bit so you get a nice aroma, about 2 minutes.
Add your can of diced tomatoes and 1 tsp tomato paste. Continue to cook until the spices have infused with the tomatoes. 
Add the coconut milk and vegetable broth to the pot and let simmer for a few minutes.
Now add your red lentils.  Cover and let it simmer for about half an hour.  The lentils will get soft, and the dal will be thick.
Last, add your spinach into the dal along with your lemon juice and let everything cook together for another 5 minutes.
Serve with white rice, cauliflower rice, or quinoa.  It's straight-up delicious as a lentil soup as well!