FLUFFY BITES OF PERFECTION WITH JUST THE RIGHT AMOUNT OF SWEETNESS!
These babies are a crowd-pleaser. 
If you are looking for a simple Paleo recipe to use up those bananas that are on the verge of going bad, look no further. These are simple, delicious, and everyone loves them.
I have added nuts to mine cause banana and nuts are always a winning combo but I have also done these with blueberries, chocolate chips, and even plane with an extra dose of cinnamon.
For those of you who have a nut allergy, I tried this recipe with sunflower flour and it turned out great! Do note, that the color will change because of the chemical reaction baking soda has with the chlorophyll in the sunflower seeds. So don't be surprised if your muffins are green! They aren't bad and they still taste delicious. You can't buy sunflower flour, at least not in any of the places I have looked, but it's fairly easy to make. Simply grind it up in a food processor or high-speed blender. I use my NutriBullet and it comes out great.
I hope you and your loved ones enjoy this Paleo Muffin recipe as much as we do!
Yield/Servings: 12
Author: Riyana Rupani
Print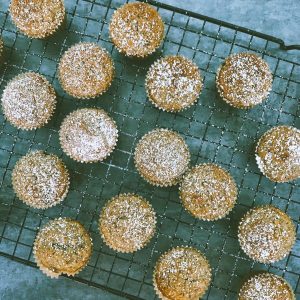 Paleo Banana Nut Muffins
Fluffy bites of perfection with just the right amount of sweetness!
PREPARATION TIME: 10 MIN
COOKING TIME: 20 MIN
TOTAL TIME: 30 MIN
INGREDIENTS
2-3 ripe bananas, approx 1 1/4 cups mashed
2 cups almond flour
1/2 cup cassava flour
1 tsp baking soda
1 tsp cinnamon
1/4 tsp salt
2 large eggs
1/4 cup honey or maple syrup
1/4 cup coconut oil
1 tsp vanilla extract
1/2 cup chopped pecans or walnuts (extra for topping)
INSTRUCTIONS
Preheat your oven to 350 ℉ / 180 ℃.
Mash the bananas with a fork in a mixing bowl. Add all of the other ingredients to the mixing bowl, except the nuts.
Use a hand mixer on medium speed to blend all the ingredients together.
 Add the chopped nuts and stir together.
Line a muffin tin with muffin cups and evenly divide the batter between 12 cups. 
Sprinkle a little extra chopped nuts on top.
Bake the muffins for 20-25 minutes or until a toothpick comes out clean.