GRAIN-FREE BANANA MUFFINS, PERFECT FOR SNACKING!
My kids love these muffins, and quite honestly so do I!
Sweetened with banana and a bit of maple syrup, these grain-free muffins are versatile and perfect for an after-school snack for the kids, with an evening cup of tea for you, or a great treat to bring along with you just about anywhere.
Go crazy and get creative with the filling and toppings!
My fav is a combination of raspberry and almonds.  My kid's love the muffins with chocolate chips (obviously), or blueberries.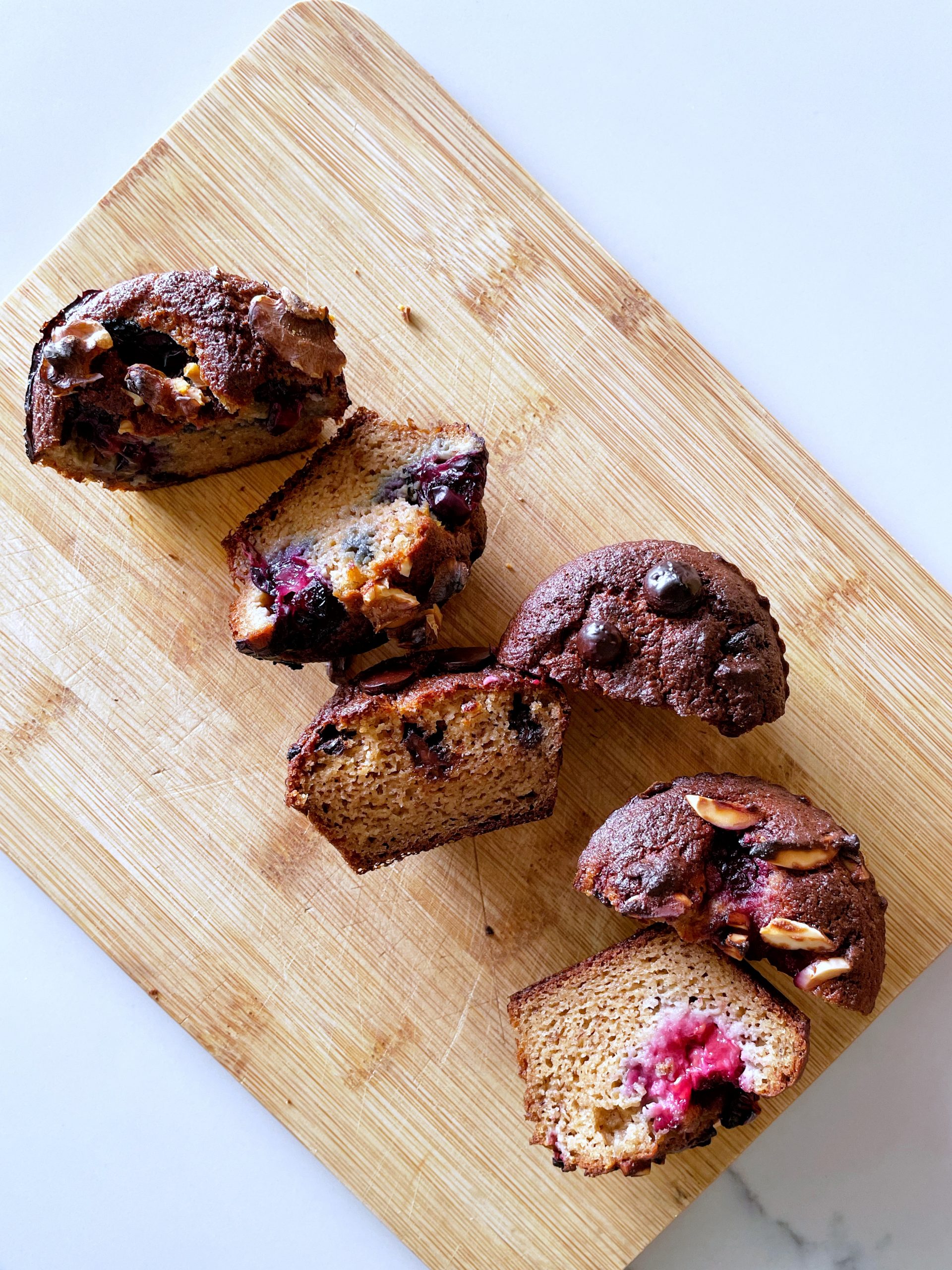 Yield/Servings: 12
Author: Riyana Rupani
Print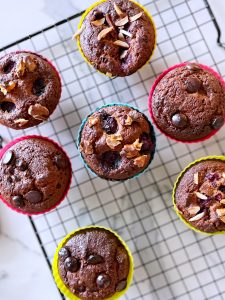 Grain-Free Banana Muffins
This is an easy paleo banana muffin recipe that are versatile and simply delicious
PREPARATION TIME: 10 MIN
COOKING TIME: 25 MIN
TOTAL TIME: 35 MIN
INGREDIENTS
2 large ripe bananas (~ 1.25 cups mashed)
2 cups almond flour
1/2 cup cassava flour or tapioca flour
1 tsp aluminum-free baking soda
1 tsp cinnamon
1/4 tsp salt
2 large eggs
1/4 cup date paste, maple syrup, or honey
1/4 cup coconut oil
1 tsp vanilla extract
Filling / Topping ideas
Frozen or fresh berries, any variety
Nuts
chocolate chips
coconut flakes
citrus zest or candied citrus pieces
chopped apple
any combination of the above
INSTRUCTIONS
Preheat your oven to 175 C/350 F degrees.
Mash the bananas with a fork in a mixing bowl. Add all of the other ingredients to the mixing bowl, except the toppings
Use a hand mixer to blend all the ingredients together.
Add your flavor/toppings and fold in.*
Line a muffin tin with muffin cups and evenly divide the batter between 12 muffin cups. Sprinkle a little of your filling on top.
Bake the muffins for 22-25 minutes or until a toothpick comes out clean.
Let cool completely on a wired rack.
NOTES:
If you are doing multiple flavors as I did, pour your plain batter into the muffin tin and then add your filling and topping. I used my finger to push the berries, nuts, and chocolate chips in, and then sprinkled some on top.