BECAUSE EVERY MEAL NEEDS A GOOD SALAD.
Sometimes all you need is the perfect salad to complete the meal.
For me, no meal is complete without a BAS (Big Ass Salad)!  and while usually I am known to just throw together whatever is in the fridge, sometimes there is a method to the madness.
Below is the recipe for my classic Mediterranean inspired salad, and while this salad can hold it's own, it goes perfectly alongside my Cauliflower Felafels and Spicy Persian Burgers.
I also love it with some grilled chicken or canned tuna thrown in for a fuss-free meal.
For me, salad is all about texture.  You need the crunchy, the creamy, and juicy.  I hope you enjoy this salad as much as I do.
Yield/Servings: 4
Author: Riyana Rupani
Print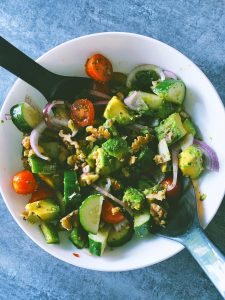 Mediterranean Salad
A wonderful hearty salad to add to your meal
PREPARATION TIME: 10 MIN
TOTAL TIME: 10 MIN
INGREDIENTS
2 cups chopped cucumbers
1 cups quartered cherry tomatoes
1/3 cup thinly sliced red onion
2 tbsp chopped fresh mint
2 tbsp chopped cilantro
2 tbsp chopped parsley
1/4 cup chopped walnuts (replace with sunflower seeds for nut-free)
1 avocado, diced
2½ tbsp fresh lemon juice
1 1/2 tbsp extra-virgin olive oil
1 tsp dried oregano
1/4 tsp kosher salt
Freshly ground black pepper
INSTRUCTIONS
Combine all the ingredients in a bowl. Done!
Make this a full meal by adding in soe grilled chicken, or canned tuna
NOTES:
This is a hearty salad that holds up well. Wonderful made ahead of time or taken on the go