THIS SLIGHTLY SWEET, SPICY, TANGY OKRA DISH WILL BE YOUR NEW FAV.
I won't lie, I didn't love okra/ladies' fingers growing up, but now they are one of my favorite vegetables.
What changed?  the texture and how I cooked it!  Okra is generally a slimy vegetable and when cooked the traditional Indian way, which is what I grew up with, it was soft and mushy too.  Not really my cup of tea in regards to texture.  It wasn't until I moved to Singapore that I realized this veg doesn't have to be overcooked or mushy, and when you actually lightly cook it and season it well, it's delicious! 
Sambal Okra is a common dish in Southeast Asia and using Foods by Ri Vegan Sambal also makes it a cinch to make! Just a few simple ingredients, and you'll have a delicious okra side dish.
Looking for other non-slimy mushy preparations of okra? 😬
Try my baked spiced okra.
For a super quick macro balanced meal, I paired my sambal okra with some egg and a little white rice.
I hope you all enjoy this recipe!
Yield/Servings: 2
Author: Riyana Rupani
Print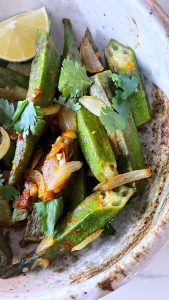 Sambal Okra
A delicious South East Asian side dish
PREPARATION TIME: 10 MIN
COOKING TIME: 5 MIN
TOTAL TIME: 15 MIN
INGREDIENTS
1 tsp olive oil
1 large garlic clove, roughly chopped
1 small red onion or shallot, sliced
250g (About 15-20 pieces of okra), trimmed and cut into 2" pieces on a diagonal
1.5 Tbsp of  Foods by Ri Vegan Sambal
Salt to taste
Squeeze of lime
Some fresh cilantro (optional)
INSTRUCTIONS
Heat your oil, add your garlic, and simmer for a few seconds, throw in your red onion/shallot, and simmer for s few more seconds till the garlic is fragrant and onions start to become translucent.
Add your cut okra along with the sambal and your salt to taste.
Give everything a good toss to coat and cook till your okra is done to your liking. I like mine a little crispy so I cooked this for about 4 min.
Finish with a squeeze of lime and some fresh cilantro.