WHEN YOUR DISH NEEDS A KICK, HERE IS THE SAUCE FOR YOU!
Schug (Zhug) is a Middle Eastern Hot Sauce. 
It's a spicy, garlicky, herby green sauce that adds a kick to anything you drizzle it over.
Seriously, a good sauce makes all the difference in taking a boring meal and making it into something special. Part of my weekly meal prep routine is always to make one or two sauces that I can use to spruce up grilled veggies, protein, or use as a dip for a light and easy snack.
This one ticks the boxes in regards to big flavor and nice spicy kick!
Love a good sauce?  You check out some of my other favorites!
Yield/Servings:
Author: Riyana Rupani
Print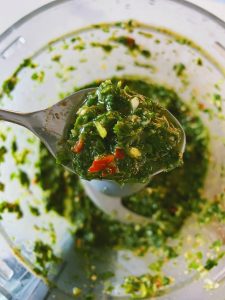 Schug (Zhug)
A delicious and spicy sauce to drizzle over anything that needs a good kick!
PREPARATION TIME: 5 MIN
TOTAL TIME: 5 MIN
INGREDIENTS
4 red or green birds eye, or serrano, or other spicy pepper, coarsely chopped
4 cloves garlic, peeled
1/2 cup parsley, chopped
1/2 cup cilantro, chopped
2 tbsp lemon juice
1 teaspoon salt
1 tsp oregano
1 tsp ground cumin
1 tsp ground coriander
1/2 tsp cardamom powder
1/3 cup good quality extra virgin olive oil
INSTRUCTIONS
Add the chili and the garlic to the food processor and blend to break them up further.
Next add the parsley, cilantro, lemon juice, and spices and pulse a few times to chop everything up.
Open the food processor and scrape everything down.
Close the machine and start it again With the machine running, pour the olive oil through the feeder tube to create an emulsion.
The final sauce should still be a little chunky and have pieces of herbs in it.
Store in an air tight container and serve with pita bread, sour cream or yogurt and grilled vegetables and meat.
NOTES:
If you don't like too much heat, you can deseed the chilis, reduces the number of chilis or replace them with a milder pepper.