CLASSIC THAI COCONUT CHICKEN SOUP
Classicly made with chicken, but easy to adapt for my veggie friends!
Tom Kha Gai is warming and thoroughly comforting and my version comes together easily and quickly.  It hits the spot with all the flavors I love.  Spicy, sour, salty, and a little sweet.
This heavenly aromatic chicken and coconut soup gets its rich flavor from classic Thai ingredients –  coconut milk, lemongrass, fresh galangal or ginger, lime juice, lime leaves, fish sauce, chile, and cilantro.
If you are enjoying leftovers the next day, it's even better after the flavors have had time to rest and fully meld.  Might be a good idea to double the recipe!
If you don't have chicken on hand, I have done this with prawns and it turns out great.  If you are vegetarian, simply leave out the chicken and replace the fish sauce with a bit of salt.
This soup holds its own but if you wanted, you could pair it up with some of the below for a full-on Thai meal!
Yield/Servings: 4
Author: Riyana Rupani
Print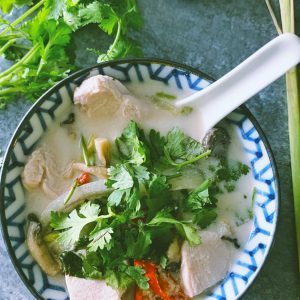 Tom Kha Gai
A delicious creamy coconut based Thai soup
PREPARATION TIME: 10 MIN
COOKING TIME: 25 MIN
TOTAL TIME: 35 MIN
INGREDIENTS
3 cups chicken stock or vegetable stock or bone broth
inch piece fresh ginger or galangal, sliced
2 stalks lemongrass, base cut off, outer layer removed, bruised, and cut on a diagonal into 2-inch pieces
1 birds eye red chili (deseed or omit if you don't want it spicy or are AIP)
1 can full-fat coconut milk
400 g/1 lbs chicken thigh cut into 2 inch pieces (omit for vegetarian)
1 white onion sliced
1 cup straw mushrooms (or any variety you can get with a mild flavor*), cut into bite-size pieces
5 fresh kaffir lime leaves, torn or zest of 1 lime
juice of 2 limes
3 tbsp redboat fish sauce (replace with 1 tsp salt for vegetarians)
1/4 cup fresh cilantro, chopped, stems and leaves separated
INSTRUCTIONS
Bring your broth to a boil in a heavy bottom pot and let simmer along with your lemongrass, ginger/galangal, and chili. Continue to cook your broth until your liquid becomes half.
Next, reduce the heat to a simmer and add in your chicken (if using) followed by your mushrooms, onion, coriander stems, and fish sauce (replace with salt if vegetarian). Give everything a good stir and allow to cook for about 5 minutes.
Last add in your coconut milk, keffir lime leaves or lime zest. Let the soup come to a gentle simmer again for about 2 minutes.
Lastly add in some of your coriander leaves and a good squeeze of lime.
Give everything a good mix and give it a taste. Adjust flavors as needed.
NOTES:
I don't suggest using shitake mushrooms because they have a very strong flavor.