WHO DOESN'T LIKE CHICKEN TIKKA MASALA?
Everyone and I mean everyone loves this dish! 
Hands down one of the most popular Indian dishes of all time is the classic tikka masala.  Soft chunks of chicken in a creamy, tangy, "buttery"  sauce.  There is literally nothing not to love about this dish!
The classic version has your chicken marinated in yogurt and of course, the sauce is loaded with butter and cream.  My version is dairy-free, but I promise you won't miss it!  I use coconut yogurt in the marinade and replace the butter with ghee, and the cream with cashew cream for a Paleo friendly mouth watering rendition.
I try to marinate my chicken the night before or in the morning.  The longer this marinates, the tastier the chicken will be.
Serve this up over your favorite cauliflower rice, basmati rice, or alongside my favorite and very popular paleo paratha.
Got leftovers?  The flavors will be even better the next day!
Yield/Servings: 2
Author: Riyana Rupani
Print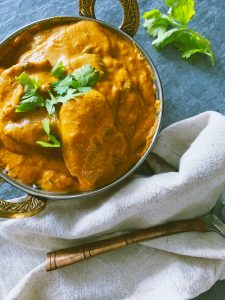 Paleo Chicken Tikka Masala
Soft chunks of chicken in a creamy, tangy, "buttery" sauce.
PREPARATION TIME: 15 MIN
COOKING TIME: 40 MIN
INACTIVE TIME: 1 HOUR
TOTAL TIME: 1 H & 55 M
INGREDIENTS
Chicken Marinade
500g chicken breast or thigh, cubed
2 garlic clove, minced
1 tsp dried ginger
1 tbsp lemon juice
1/2 cup coconut yogurt (or coconut milk if you don't have yogurt)
2 tsp garam masala
1 tsp ground turmeric
1 tsp cumin powder
salt and pepper
Sauce
3 tbsp Ghee
1 medium onion, finely chopped
1-2 chilies (depending on heat preference)
4 garlic cloves, minced
1 tbsp ginger, grated
2 tsp Kashmiri mirch or paprika
1 tbsp garam masala
1 can (15 ounces/420 grams) tomato sauce
1 green bell pepper, sliced into thin strips
1 tbsp kasoori methi (dried fenugreek)
1.5 cups cashew cream (you will need 1.5 cup raw cashew)
salt to taste
Fresh cilantro leaves, chopped, to garnish
INSTRUCTIONS
Combine the marinade ingredients in a bowl, add the chicken pieces and give everything a good mix.
Allow to marinate for at least 1 hour – ideally up to 24 hours, covered in the refrigerator.
Soak your cashews in 3 cups of hot water for at least 30 minutes.
In the meantime preheat your oven to broil. Place marinated chicken on a baking sheet and place under the broiler until just cooked through and showing some brown spots. Depending on the size of the chicken pieces, it should take about 8-10 minutes. Turn once half way through. Remove from oven, and set aside.
Drain the cashews that have been soaking, but reserve the soaking water. Place the cashews in a blender with 1.5 cups of the soaking water and blend until smooth. It should be a similar thickness of thick yogurt. If it's too thick, add a little water at a time to get your desired consistency.
For the sauce - Heat the ghee in a deep pan over medium heat. Add the onion and cook until soft, about 5 minutes. Add the chiles, garlic, ginger, and reduce heat to medium-low. Cook, stirring occasionally, until the onions are brown and caramelised, about 5 minutes. Add the garam masala and paprika and stir well and cook for another 5 minutes, adding a little water if needed to reduce sticking.
Stir in the tomato sauce then transfer to the blender and blend until smooth (no need to clean out the cashew cream, it's all gonna get mixed together anyway). Return the tomato sauce to your pan and add the bell pepper, fenugreek, and salt. Turn your flame to low, and let this cook for 10 minutes. The sauce will be quite dry, almost like a paste.
Add your cashew cream, give it a good mix and taste. Adjust for spice/salt.
Add the marinated chicken, cover and allow to cook for 5 minutes. Garnish with lots of fresh chopped cilantro.
Serve with paleo paratha, low-carb Naan, basmati rice, or cauliflower rice.