SIMPLE, AROMATIC, SPICY...
Thai cuisine is definitely one of my favorites, and the classic Tom yum soup is a go-to for me when I am craving something light and aromatic!
Why do I love Thai food so much?
I love the use of fresh herbs and spices.  It's full of flavor without being super heavy and quite simply, I can make clean versions of some of my favorites with minimal modifications!  If you loved Thai food as much as I do, definitely check out some of my other Thai inspired recipes.
At first sip you'll get the aromas of the lemongrass, galangal, and lime, followed by the heat from the red chilis, and the gentle sweetness of the tomatoes.  You will want to go easy on the chili if you aren't a fan of too much heat but don't skip them all together.  That heat is a must in Thai cooking.
You can serve this alongside your meal as a wonderful starter  or as your main dish.  Make sure you are getting in a good protein source if you do!
I like to add Shrimp in my Tom Yum, but you can make this completely vegan if you like! Alternates in the recipe.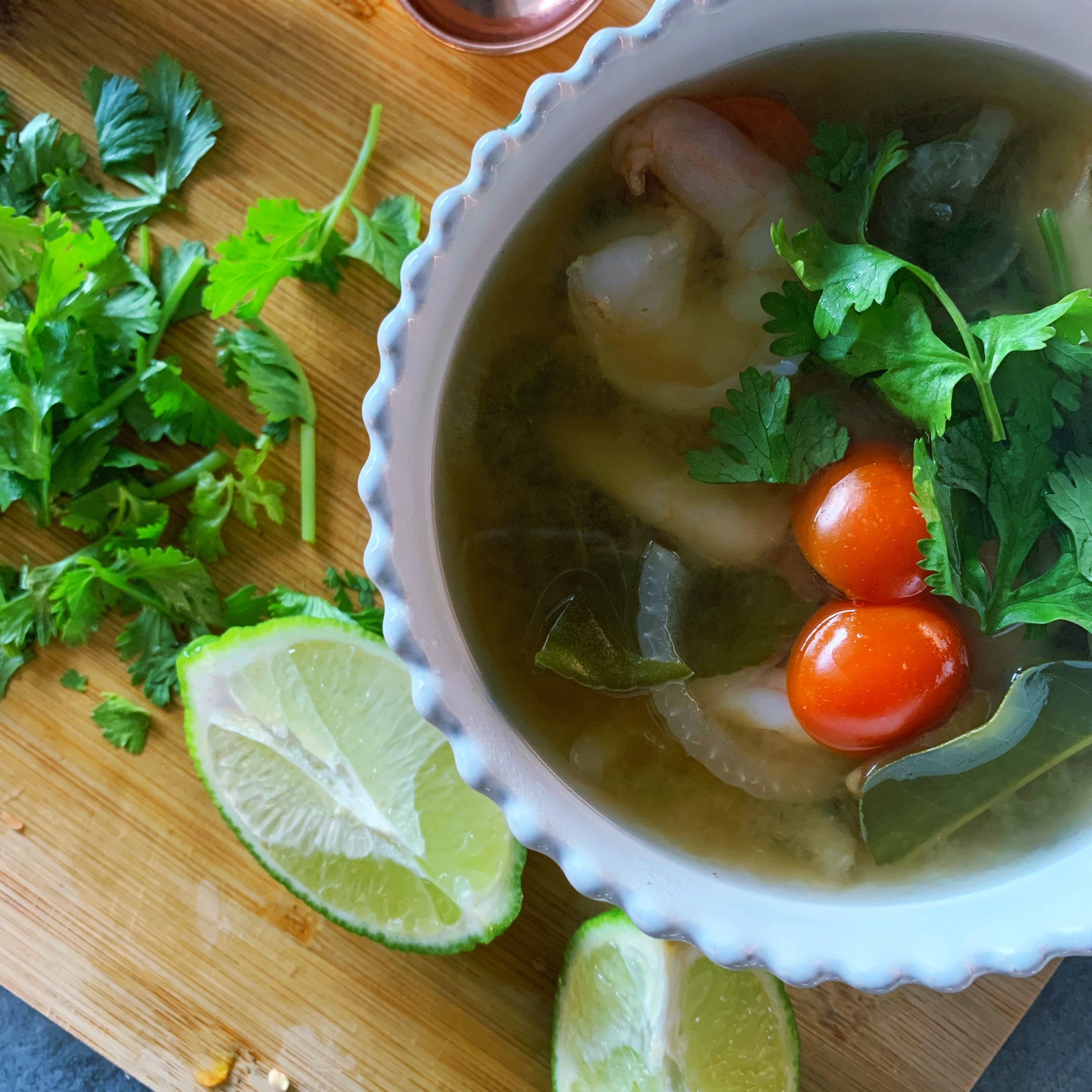 Yield/Servings: 2
Author: Riyana Rupani
Print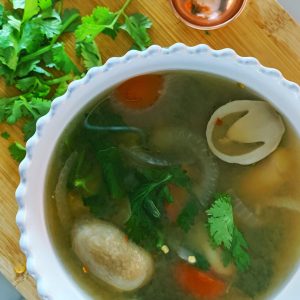 Classic Tom Yum Soup
My version of the classic clear broth soup
PREPARATION TIME: 5 MIN
COOKING TIME: 20 MIN
TOTAL TIME: 25 MIN
INGREDIENTS
5 cups broth/stock of choice
6 kefir lime leaves, torn
2 stalks lemongrass, outer skin removed and cut into 2 inch pieces
1 inch piece galangal, sliced (if you can't find fresh galangal use dried or replace with same amount of ginger + some lime zest)
2 whole cloves of garlic, peeled and halved
1 onion, sliced
1 tomato cut into wedges or 5-6 cherry tomatoes halved
1 cup straw or enoki mushrooms (I used 1 can enoki)
2 red birds eye chili or chili flakes to taste
3 Tbsp fish sauce (replace with salt for plant-based version)
Juice of 1 lime (about 2 Tbsp)
Fresh chopped cilantro (save some for garnish)
Protein of choice - recommend prawns for omnivores and non-GMO tofu for plant-based.
INSTRUCTIONS
Let soup come to a boil
Add your all your ingredients from lime leaves to tomato, lower to a simmer and allow the broth to reduce to about 3/4 original quantity. This should take 10-15 minutes.
Add your remaining ingredients. If using canned mushrooms, rinse and cut to desired size before adding. Allow everything to simmer gently for 5 minutes. Top with more fresh chopped cilantro for garnish.