SMOOTH AND CREAMY HUMMUS, A STAPLE IN MY MEZZE PLATTERS
Have you ever tried making hummus at home and it never turns out quite as expected?  This is my favorite hummus recipe!
With a few simple tricks, you really can make creamy smooth homemade hummus, and yes, much better than store-bought!
I'm a big fan of grazing platters & mezze when having friends over, and having a good hummus is a staple for me.
So what's the secret to making good hummus?
It's the order in which you add ingredients to your food processor. Seriously, that's it.  You want to start with your tahini and lemon juice first before you add anything else, turn on the food processor and let it run for a minute.  That's the trick!
I get a lot of questions on if you need to peel the skin of the chickpeas.  In short, you don't have to, but if you have the time, it doesn't hurt the process. I personally find it therapeutic to remove them, but I'm a little crazy like that!  lol.
I've listed a bunch of options below for add-ins to change up the flavor of your hummus, but always remember, start with the tahini and lemon juice first!
What do I like to serve my hummus with?
Let me know if you test out my trick and if it makes a difference in your hummus!
Yield/Servings: 6
Author: Riyana Rupani
Print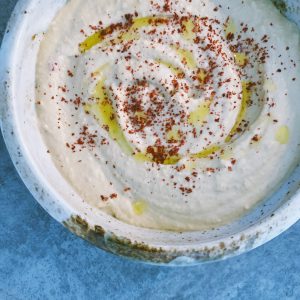 Hummus
Classic dip made of chickpeas and velvety tahini
PREPARATION TIME: 15 MIN
TOTAL TIME: 15 MIN
INGREDIENTS
1 can chickpeas, thoroughly washed and if you want to go the extra mile, remove the skins
1/4 cup fresh lemon juice
1/4 cup hulled tahini
2 garlic clove, minced
3 tablespoons extra-virgin olive oil, plus more for serving
1 teaspoon ground cumin
Salt to taste
2 to 3 tablespoons cold water
For serving, a dash of paprika or sumac, plus a drizzle of olive oil
INSTRUCTIONS
In a food processor, combine the tahini and lemon juice and process for 1 minute, scrape the sides and bottom of the bowl then process for 30 seconds more. This extra time helps "whip" the tahini, making the hummus smooth and creamy.
Add the olive oil, minced garlic, cumin, and a 1/2 teaspoon of salt to the whipped tahini and lemon juice. Process for 30 seconds, scrape the sides and bottom of the bowl then process another 30 seconds or until well blended.
Add half of your chickpeas to the food processor and process for 1 minute. Scrape sides and bottom of the bowl, then add remaining chickpeas and process until thick and quite smooth; 1 to 2 minutes.
At this point the the hummus will be quite thick or still have tiny bits of chickpea. To fix this, with the food processor turned on, slowly add 2 to 3 tablespoons of COLD water until you reach the consistency you like.
NOTES:
Optional - add in 1/2 a tsp of chili flakes for a little kick in your hummus.
Other great add-ins to your hummus to give it a different flavor or texture.
Avocado
Miso
Beetroot
Roasted red peppers
Herbs like basil, cilantro, dill, etc.
Sundried tomato
pinenuts